Is it rude to bomb your co-workers?
But in a work environment where you're being judged on appropriateness, especially as a young worker, it feels good to have more control over your answers. Email and messaging allow me to brainstorm ideas and create a thoughtful response. I can refer to a paper trail showing what is expected of me. An email or Slack message can allay the fear of reaching out to a busy manager or an intimidating boss.
It's much easier to write a bomb when you're comfortable or on the same level as your colleague. "I don't mind if my co-workers drop by for a chat," says a friend, "but we're all young and friends, so that helps."
Everyone's perception of office etiquette is different.
Working and studying from home gave people the opportunity to present an idealized version of themselves, protected by the screen barrier. If I get a call I can decline, if I want to have lunch I block my calendar. I can change my status to busy in Slack when a task requires constant focus. You get used to completing tasks without distractions or small talk.
After two years of being able to control communication, our difficulties with face-to-face interaction make sense. The style of the open plan office is undeniably over-stimulating compared to working from home, so we can't be surprised that people want to recalibrate the rules.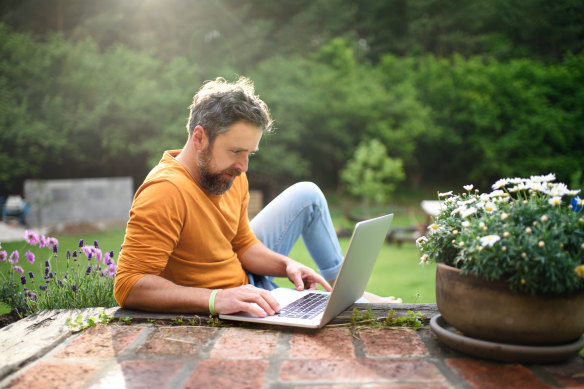 I'm trying to send a "Free to chat?" Message before you approach a colleague who looks absorbed in work. But is consenting to communicate in the office a practice to be condemned or celebrated? It depends who you ask.
Loading
The little things workers do for privacy mean that consent could be welcomed. Some workers send a "do not disturb" message with non-verbal cues. "I just plug in my headphones and sit in a corner of the room," says a friend. Others claim clear boundaries. "If I'm concentrating and someone comes, I tell them I'm busy and to come back later." Some choose solitude. "I just hide in the toilet stall for 10 minutes when I need a break."
Perhaps we need to create more quiet areas away from phone calls, loud conversations, and uninvited complaints. But everyone's perception of office etiquette is different. And some believe that your space and time should always be available.
"If I had my way, I would force people to come into the office," says my friend, in her 20s, who works at a large consulting firm. "I like being able to access people at any time. There's a guy who never comes in, and it sucks."
My admission of social anxiety in the workplace doesn't mean I'm firmly against desk bombing. I just think the debate is a sign that something needs to change. Work is about collaboration and understanding one another, so why not extend that to workplace etiquette?
The Opinion newsletter is a weekly collection of views that challenge, support and inform your own. Login here.
---
More original opinions
Burglary: Former Victorian Attorney General and now Director of the Center for Innovative Justice Rob Hulls had his family's home raided while everyone was sleeping. He would like to meet the criminals and ask them why.
Enough with private schools: After a plethora of private school scandals, Jenna Price is urging them to bail them all out now and also "reexamine the values ​​these schools are instilling in an ever-increasing number of students."
Death as a teacher: As Waleed Aly's mother-in-law Jan lay dying, he found those final moments both beautiful and harrowing. "It's also one of the most revealing. The moment of death takes our vast, complex life and reveals it as simple."
https://www.smh.com.au/business/workplace/is-desk-bombing-your-coworkers-rude-20230202-p5chlh.html?ref=rss&utm_medium=rss&utm_source=rss_business Is it rude to bomb your co-workers?