Invasion Day rallies in Melbourne, Sydney and Brisbane will fight the vote
Invasion Day rallies in Sydney, Melbourne and Brisbane will march under slogans demanding that treaty and sovereignty take precedence over a vote in parliament, as Indigenous organizers say they will fight the push for constitutional recognition.
Thousands of people are expected to attend the annual rallies in each capital to commemorate January 26 as the start of Indigenous colonization by the British, with this year's events taking place while the Voice to Parliament referendum takes place in the second half of the year will be held in 2023.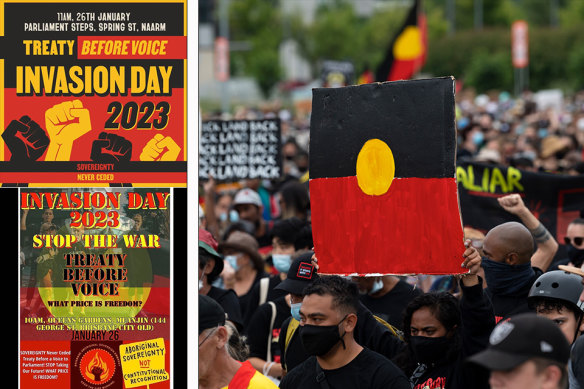 But organizers will use the high-profile rallies to campaign against the referendum, in a move that exposes long-standing tensions within the Indigenous community between Voice supporters and black activist groups who view Australia's constitution as a product of colonization.
Sydney rally co-organiser Gwenda Stanley, a Gomeroi woman, said the theme of this year's march was "sovereignty before the vote" as she criticized the referendum as a waste of money that could have been better spent locally on indigenous communities .
"The main message we need to convey [at the rally] is that for many of us we are not pro-vote, we are pro-sovereignty. It's about our self-determination as Aboriginal people, as the original sovereigns of this land," said Stanley, an administrator of the Aboriginal Tent Embassy in Canberra.
Loading
"We've never marched down these streets singing 'We Want One Voice'."
The split in the Voice dates back to the Uluru Dialogues in 2017, when a small breakaway group of delegates, including Stanley and now Green Victoria Senator Lidia Thorpe, walked out of Congress in protest, while more than 250 Indigenous leaders supported the Voice as the first bar of the Uluru Declaration, followed by Contract and Truth. Thorpe continued to express reservations about the Voice, although he ruled out campaigning against the referendum.
Melbourne rally organizer Meriki Onus, Thorpe's sister and co-founder of activist group Warriors of the Aboriginal Resistance, confirmed that the 'Treaty before Voice' theme had been adopted for the city's march after a meeting of local activists to discuss the issue.
https://www.smh.com.au/politics/federal/invasion-day-rallies-will-campaign-against-the-voice-20230119-p5cdsi.html?ref=rss&utm_medium=rss&utm_source=rss_politics_federal Invasion Day rallies in Melbourne, Sydney and Brisbane will fight the vote