Innes FitzGerald, British star teenage runner, 'Greta Thunberg of sport', will not fly to Australia over climate concerns
London: One of Britain's most promising young athletes has ruled out flying to Australia for next month's World Junior Championships due to her deep concerns about climate change.
16-year-old runner Innes FitzGerald is a rising star in British athletics. He set a national U17 record in the 3000m and finished fourth in the 4000m against athletes three years his senior at the U20 European Cross Country Championships in Turin last month.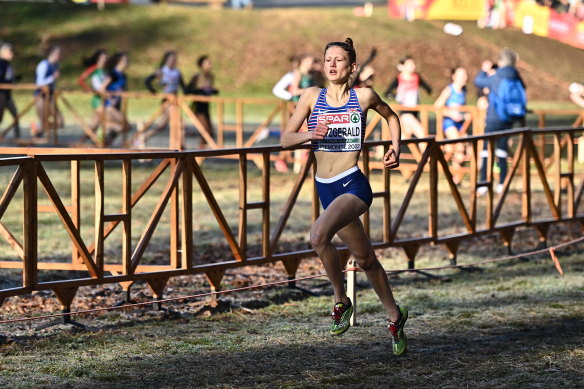 She led the field for a significant part of the race, although her preparation was interrupted by a 20-hour journey to northern Italy by bus and train. FitzGerald and her family also rode folding bikes to get from station to station.
The teenager, dubbed "the Greta Thunberg of sport" by the British press, wrote to the sporting director this week that she would not be available for selection because she could not in good conscience make the journey to the Championships in Bathurst, NSW. in February.
"To have the opportunity to represent Britain in Australia is a privilege," she wrote. "When I started running, the prospect of competing in the World Cross Country Championships was just a dream. However, the reality of the trip fills me with deep concern.
Loading
"I was just nine years old when the COP21 Paris climate agreement was signed. Now, eight years later, global emissions are steadily increasing, putting us on the path to climate catastrophe."
She said she would "never feel comfortable" flying knowing that people could lose their livelihoods, homes and loved ones as a result.
"The least I can do is express my solidarity with those suffering on the front lines of climate change. It wasn't an easy decision to make, but little compared to the sadness I would feel if I were to take the flight."
https://www.smh.com.au/world/europe/star-teenage-british-athlete-won-t-fly-to-australia-over-climate-concerns-20230126-p5cfk8.html?ref=rss&utm_medium=rss&utm_source=rss_world Innes FitzGerald, British star teenage runner, 'Greta Thunberg of sport', will not fly to Australia over climate concerns