In a campaign that puts the spotlight on slots, both leaders gambled heavily
The battle for NSW was quite a bumpy affair. Two very capable men in their early 40s with large families (one of them unusual) who like each other very much and would rather save on political affairs than exchange personal barbs.
One likes basketball, the other surfs and guitar. Prime Minister Dominic Perrottet insists the past shows how good the future will be if he is re-elected prime minister. Labor leader Chris Minns says the best of days are behind this state government.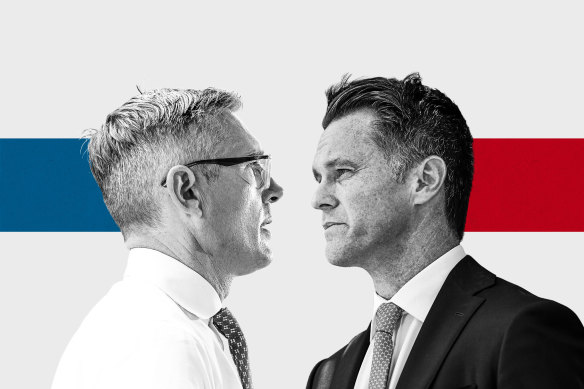 Aside from this rather mundane description of the two men vying to be prime minister after March 25, very little was offered to the wavering voters. Perrottet parroted a phrase that has clearly been tested in focus groups: He has a "long-term economic plan," while Minns has stuck to bread-and-butter issues. Schools, hospitals, tolls and no privatization. It was a largely uninspiring campaign.
While many voters have made up their minds or have never changed, it is telling that the recent Resolve Political Monitor for the herald 25 percent are undecided which side they are on. Perhaps that's why Perrottet delayed up to two weeks after Election Day to unveil his boldest and most forward-looking policy yet. It should clearly be the game changer.
Using the launch of the Liberal Party's campaign as a stepping stone, the father of seven has detailed a plan for a future fund or children's pension scheme. Knowing that parents are losing their sleep over how their children will someday post home security or pay off their HECS debt is his policy's good intention. Planning for the future is undoubtedly prudent and many parents, particularly the so-called ambitious Liberals Court voters, are likely to love it.
Loading
Under his plan, which Perrottet spent years devising with the help of experts outside his usual NSW financial experts, every child in NSW whose parents have opted into a fund will initially receive $400 from the government. He was "inspired" by a similar program in Canada. The Registered Education Savings Plan (RESP) helps families save for their child's post-secondary education, with the Government of Canada covering a portion of parental contributions.
If Perrottet is re-elected, NSW parents and grandparents will be able to contribute a maximum of $1000 a year to a future fund and the Government will top up payments of up to $400 a year. The result? A child could have a nest egg of between $28,000 and $49,000 by the time they are 18 to spend on housing or education.
The government has cost the program $850 million over four years, based on 947,000 children under the age of 10 enrolling in the first year, and then 100,000 newborns per year from 2024.
https://www.smh.com.au/national/nsw/in-a-ho-hum-election-spotlighting-pokies-both-leaders-have-gambled-20230314-p5cs31.html?ref=rss&utm_medium=rss&utm_source=rss_national_nsw In a campaign that puts the spotlight on slots, both leaders gambled heavily