I'd rather say I'm annoying than my food is bad
Even if you think you're unfamiliar with food writer and internet personality Alison Roman, you might be familiar with some of her recipes, the most popular of which are known simply by titles like (hashtag optional) #ThePasta, #TheStew, and #TheDip are .
Roman, a pastry chef and recipe tester turned cookbook author, has long been an avid user of social media and began sharing her recipes on Instagram after publishing her first cookbook. eat inin 2017.
This book has no-frills, chatty cooking instructions for everything from steak to bean salad, but it was her recipe for salted butter and chocolate shortbread that first earned its own hashtag, going viral as #TheCookies in early 2018 when Roman's fans began to take off to share photos of their own batches of shortbread.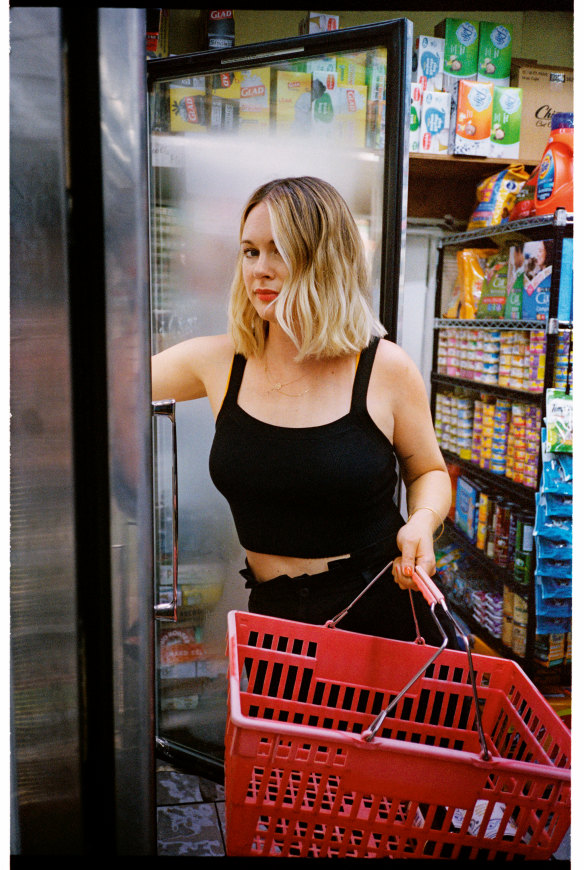 Then, in her mid-30s, Roman, who is performing at the Melbourne Writers Festival next month, soon became the darling of millennial home cooks who enjoyed food but were often constrained by budget and a lack of fancy culinary paraphernalia. The Brooklyn-based Roman's recipes, her wry writing style, her social media presence, and especially the photos she shared of her then-kitchen—an aging stovetop in a cramped space with no marble countertops—were as marketing departments like to say , assignable. Even her books occasionally contain burnt pie crust.
After several of her recipes were preceded by a specific article, The New York Times hired Roman, who had previously written for Bon appetit And buzzfeed food, as a columnist, and her star continued to rise. In 2019 she published a second cookbook, Nothing specialwhich focuses on easy dinner party fare (this one launched #TheStew).
She has polarized for a long time; even the New York Times once described her as "home cooking's most adamant polemicist".
But seven months later, in May 2020, with her recipes being shared by an even larger audience now embracing cooking during the pandemic, Roman was abruptly "cancelled" following an interview with the US online publication. New consumer in which she spoke about food model turned food model Chrissy Tiegen and Japanese decluttering queen Marie Kondo. Roman, who started a collaboration with a cookware company — a line of vintage-inspired spoons she pocketed in the same interview — targeted Kondo as "capitalizing on her fame," and described Tiegen, who quickly transitioned from cookbooks to a target product line as a "People running a content farm for them". "It horrifies me, and it's not something I ever want to do," Roman said in the piece. "I'm not aiming for that."
The backlash was typically immediate; first for Roman's seeming hypocrisy and then for the fact that both women she commented on were Asian. Roman was branded as a perpetrator of the food media's structural racism, and the openness that had made her so popular became her undoing. The requisite Twitter controversy, a thousand food for thought, and social media users scouring their accounts for historic transgressions ensued. Roman publicly apologized to both women and gave her time off New York Times Column (it was officially removed from the newspaper in December of that year).
But for such a high-profile "cancellation," Roman wasn't banned for too long.
About a month later, she launched her newsletter (called A newsletter) and at the end of the year she started her YouTube series home videos, "unproduced" videos where she cooks a recipe from scratch, fooling around with no script. "I didn't actually leave," Roman says via Zoom from the US. "And I mean, it was the pandemic, so a lot of people left."
Still, it was a speedy recovery from such a public fall.
"I think it's … appropriate to like, to punish, to offend. I've talked about it so much in so many interviews, and all the information is kinda…out there," she says. "I think every time someone feels embarrassed or publicly embarrassed, the instinct is to kind of … hide their head and you know, keep quiet for a little bit, which I definitely felt, but ultimately I was like, well, me I make food and I make recipes for people and that's the work I do and I want to keep doing it. And the people who like me and want to follow him can follow him – and they do."
Her YouTube channel has 220,000 subscribers; Her Substack newsletter has 236,000, from what she says are around 150 countries.
"I think the beauty of YouTube and the internet in general is that things are shared widely," she says. "My goal is to make sure it's accessible to everyone, whether you live in Spain or India or Japan or the US. I think it's cool that you can make the shallot pasta, the stews, or the soups. I get a lot of questions that say, "Oh, where I live, we don't have buttermilk" or "we don't have that," so I end up learning what's in different places, too, which is very cool."
Last month, Roman published her third cookbook, this time with a focus on desserts. sweet enough maintains her effortless chic, offering sweet dishes that look a lot more complex to make than they are.
A dessert book seems like a logical step for Roman, who after dropping out of college trained as a pastry chef at the restaurant, working at Sona in Los Angeles (where she grew up) and the multi-award-winning Milk Bar dessert chain in New York. among other things.
However, Roman declares himself "not a dessert person".
What?
"I'm not! When I go out for dinner, I don't actually order dessert. When I have breakfast, it's always hearty," she says. "I prefer cooking to baking…it's just not in my personality." She admits, that because of her pastry background, she feels a connection to desserts, just "not in the same way as someone who says, 'Oh, I'm absolutely shaped by my love of sweets.'"
Even as a child, Roman didn't have a big sweet tooth.
"I loved matzo balls, broccoli… the sweetest was oatmeal in the morning. All my cereals were unsweetened. That's what drew me in, like a bagel and cream cheese, salmon, salmon, whitefish; Jewish delicatessen culture. Everything was tasty! I wanted salt and butter and onions."
Which might explain why Roman even sneaked a little savory chapter into a dedicated dessert cookbook (admittedly one that she calls "dessert agnostic").
"I think it's nice to have dessert from the perspective of someone who prefers that type of food," she says. "And for people who are, 'uh, I'm not really a dessert person,' I think even you have to bake someone a cake once in a while, or cookies, or you. Boredom and you think: 'What should I do, maybe I'll bake a cake?' – I feel like this book is for those people."
And maybe for people who like her recipes, but not necessarily Roman himself. Many of her newsletter subscribers accidentally hit reply when trying to forward the email, and recently Roman had one with a message that someone thought she would send them to her friend who said "I really can't stand them but their recipes are the best".
"Yes, people have said that I am polarizing (but) I think every individual on the planet evokes different reactions. I haven't met a single person on this beautiful planet that 100 percent of people like," she says.
Loading
Especially if you're famous. "And you know, I have opinions and I'm glad to have them. I guess some people don't like it when people have too strong an opinion, but… that's ok. They don't have to!"
For the record, Roman replied to the erroneous email.
"I replied to this person and said it was ok and they replied and they were so embarrassed! But you know, I'd rather have someone say I'm annoying than my food is bad or my recipes don't work," she says. "But they work and the food is good! So we are all good there."
Alison Roman performs at the Melbourne Writers Festival at Melbourne Town Hall on May 5th. mwf.com.au; Brisbane Powerhouse, Brisbane, 7th May. Brisbanepowerhouse.org; Sydney Opera House, May 9th. www.sydneyoperahouse.com
Get the most out of your health, relationships, fitness, and nutrition with ours Live Well newsletter. Receive it in your inbox every Monday.