Humpback whale stranded at Lennox Head
A frantic rescue mission is underway to free a humpback whale that washed up on a beach at Lennox Head on Saturday morning.
Authorities and volunteers are scrambling to launch the 30-ton, six-meter-long whale after it washed ashore at the north end of Seven Mile Beach, about 10 kilometers north of Ballina.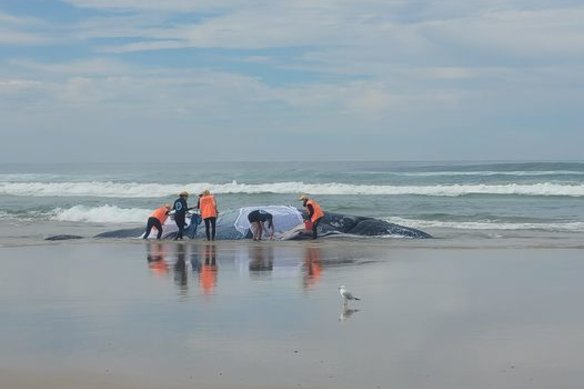 The whale is alive and appears to be in good physical condition, a spokesman for the NSW National Parks and Wildlife Service said.
Authorities hope the 6:30 p.m. high tide will drive the giant out to sea.
Teams from Australia's Whale Rescue and Research Organisation, SeaWorld and Ballina Shire Council are on site providing first aid to the whale in the form of shade, containment and pain relief.
Dean Fuchs, co-founder of local whale-watching company Out of the Blue Adventures, said it's unusual for whales to be stranded during their annual migration north.
"[If they're stuck] They generally took the wrong turn," Fuchs said of the 40,000 whales that pass the coast each year.
He said the big waves of the past few days may have disoriented the whale.
"Or it could be sick or injured and had to get close to shore," he said.