How to fix our rugby problem? Focus on the grassroots
A major problem for rugby in Australia is the lack of a regular presence on free-to-air TV and Foxtel (Letters, September 29). Many potential fans never or rarely see our senior teams play. True believers may subscribe to Stan to watch the Super Rugby Pacific and the Wallabies but most people can't afford multiple subscriptions. Rugby must engage a much greater number of casual followers and inspire them to want to watch more often and support our best teams. AFL and NRL games are easy to find and watch throughout the season. Rugby is almost totally hidden from view. It will wither unless this changes. Jim Rogers, Gosford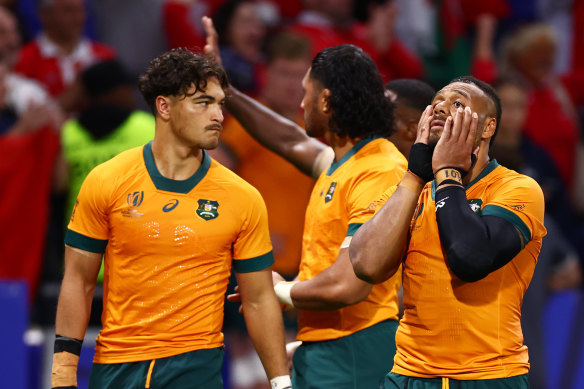 It's not about the coach. It's about the management of the grassroots over a couple of decades. Take away the support from the bottom and you get poor coaching, kids attracted to other codes, junior clubs struggling to survive and crumbling foundations. Get a management consultant to propose a new organisational structure and find someone to implement it. Change will take a decade, but we can grow the code if we make hard decisions. Neville Turbit, Russell Lea
The unfortunate demise of Australian rugby is a result of a decades-long focus on the top of the sport and not on the bottom and mid-tier. Those at the top of the code have done nothing to endear themselves to the rugby public. They stand for everything that rugby is not – arrogance, showboating and a desire to be the next headline. The code requires an administration that is willing to be brave, to look beyond the Wallabies and to set a course of long-term structural change. It requires people with vision and a deep understanding of the code and the hearts and minds of the many who play, support and volunteer. I challenge those at the top to come and spend a day with the clubs (junior and senior) to see the real brave hearts of our code. Jeremy Betts, Pymble
Recent letters reflect the breadth of structural problems with Australian sport, its unbalanced coverage by the media and the equally unbalanced government funding. We will never do better on the international stage if the focus is overwhelmingly on sports that are all but unique to Australia, rather than reflecting community participation levels. Otherwise, we may as well continue to blithely celebrate being the best in the world at Australian rules and rugby league. Peter Allen, Castle Cove
Australian rugby and therefore the Wallabies' supremacy have been in decline ever since its games and commentary by Gordon Bray stopped being televised on the ABC. Merilyn McClung, Forestville
Visiting the pool at Freshwater a crowd was gathered as whales were spotted nearby. A young boy excitedly said, "look mum they are waving their flippers and leaping out of the water". A gentleman nearby said to the boy. "You know why they are waving and looking so happy? Because they beat Australia in the rugby." Priceless! Robyn Tarrant, Freshwater
Where has the optimism of 1967 gone?
I am 84 years old and voted in the 1967 referendum to change the constitution so that all Australians, including Aboriginal and Torres Strait Islanders, could be counted as part of the population ("Vote sceptics switch to Yes", September 29). The referendum had bipartisan support and achieved more than 90 per cent support from the whole nation. I remember the optimism and good faith on both sides. Not so today: has Australia really changed that much since 1967? Had Peter Dutton given bipartisan support to the Voice referendum, not only would the referendum pass but his reputation would have been enhanced. I am finding it difficult to understand why being asked to change the constitution (which has been done before) is such a big deal. My memory of the 1967 referendum made me proud to be Australian but I fear memories of this referendum will be something a lot of people will want to forget. Margarett McPherson, The Gap (Qld)
It is encouraging to see that Blak Sovereignty activists who joined the No camp because they believed the Voice didn't go far enough are finally switching to Yes. The campaign is certainly the ugliest I can remember in my long life and it is notable that Australia's opinion could be changed in a few short months by the power of misinformation. This edges closer to the post-truth politics of Trump in the US. Gary Barnes, Mosman
I, too, was concerned about the necessity to enshrine the Voice for First Nations people in our Constitution. That is, until I realised that these people have a special place in our society, a status not shared by all of the people who have arrived in this country from elsewhere. It is time to bestow on the Indigenous people of our land the recognition and respect they should have received at the beginning of white settlement. Lyndall Nelson, Goulburn
David Crowe expertly dismisses the big lie, that the Voice will divide the nation by race. He is correct in the assertion that the 'No' argument directly denies the level of disadvantage that some Indigenous Australians face today. The referendum is not about race, but those who try to make it about race are doing so for political advantage. Geoff Nilon, Mascot
Before you vote on October 14, read Paul Keating's Redfern address from 1992. It sets out some of the treatment of First Nations people in the past. Recognition and listening to their advice is their only hope for a different future. Ted Hemmens, Cromer
Heading for danger
Hmm. Taking advice on Sydney's cycling lanes from a Dutchman who rides a bike through the city with no helmet and a ukulele may not be such a good idea ("City's bike lanes on right track, says Dutch expert", September 29).
Andrew Scott, Pymble

I contest that Marco te Brommelstroet from Amsterdam is a cycling expert. He would have more credibility and less chance of a brain injury if he wore a helmet, especially on Sydney's roads and bike paths. Greg Briggs, Greenwich
The Dutch expert praises Sydney for the work that has already been done and is pictured riding through the city and Surry Hills, but why is he not wearing a helmet that is required by law? What kind of message is that sending? Julie Gale, Cronulla
Cyclist deaths in NSW for the year ended August 31 are up 75 per cent on the same period the previous year. The Dutch "cycling professor" Marco de Brommelstroet was brought to Australia by the Committee for Sydney to promote "bicycle safety" and was photographed cycling without a helmet. Bicycle helmets are a legal requirement throughout Australia because they save lives. Harold Scruby, Neutral Bay
Site for sore eyes
Congratulations to you and Opera Australia for ("House proud", September 29), celebrating the Sydney Opera House's 50th birthday. But one person not often given credit for helping create the Opera House is my late father, Sidney Luker, who as the first chief planner of the Cumberland County Council was asked by the premier, Joe Cahill, to find a site for it as a town planner in company with the Sydney Symphony Orchestra conductor Eugene Goossens.
I still have a letter by my father's successor, published by the Herald, saying he remembers my father returning to their office overjoyed that Goossens and he had found the best site, which as you report, was then tram sheds. Another site they considered and luckily rejected was Sydney Hospital.
Philip Luker, Bondi
Stop the cruelty
More bleating from sheep farmers stuck in the slow lane of business innovation ("Farmer groups plead to get plan for sheep export ban reversed", September 29). Australia is not the only country to decide to ban live sheep exports. New Zealand has a total ban and has successfully switched to chilled and frozen meat, including halal for the Middle Eastern trade. The EU has severe limitations on live animal trade by land and sea as a prelude to a total ban there too. Instead of launching repeated protests our sheep farmers should consider adopting a system that works – the NZ solution – or diversify into new markets or different agricultural businesses. I believe that the average Australian who thinks about this problem and has repeatedly seen the shocking videos despite alleged improvements supports a total, permanent ban. John Whiteing, Willoughby
Since 2400 sheep died from extreme heat onboard a ship from Perth to Doha in 2017, why don't farmers and exporters design a ship with air-conditioning for live animal export? Humans enjoy luxury cruises. Surely, we can do better for our sheep's welfare. Larry Woldenberg, Forest Lodge
Sunny side up
Queensland: beautiful one day, hiding behind curtains the next trying to get some sleep after all the partying in summer in the southern coastal populous places (Letters, September 29). Draw a line, use a latitudinal marker just above the Sunshine Coast and correct this embarrassment that divides Australia yearly. Airlines, schools, parents, tourists, business, insomniacs, imbibers, late-nighters … think of the support. Let the south of Queensland be in sync with the majority. Let the rest remain as is. John Kingsmill, Fairlight
Price pain, earth gain
The oil production cut by OPEC in order to drive up the price is causing pain at the Australian petrol bowser, but there is underlying good news ("EVs driving oil giants to cliff", September 29). In a time of financial stringency, the dominant reaction to high prices is to use less. In the short term, there will be greater use of public transport and carpooling and further interest in working at home. In the longer term, sales of EVs or smaller petrol-driven cars will spiral. The greatest benefit will be for the environment with cleaner city air and reduced greenhouse emissions. Although completely unintended, OPEC should be thanked for the positive consequences of their production cut. Geoff Harding, Chatswood
Safe as houses
One has to hope acting Housing Minister Senator Murray Watt has a good memory and remembers he is also minister for emergency management ("Minns lashes PM for 'imposing' targets", September 29). The last thing we need is a federal government housing agenda that allows new housing developments on our floodplains. Col Shephard, Yamba
Head in the clouds
I note your article ("Motorway to new airport rises out of paddocks", September 29) mentions that "under the previous government, the cost rose by more than $400 million to $1.8 billion in 2019 due to a jump in land values around the site". Values indeed! Remind us please, how these land values came to skyrocket and who benefited from the windfall gains? Craig Forbes, Lewisham
Full circuit
It has come to this. All my invective, my opprobrium, my disdain and now I find myself agreeing with Scott Morrison ("Former PM Morrison buys into debate over Cronulla coastal walk", September 28). Finish the Esplanade circuit at Cronulla, Chris Minns. It was, and is, a community project that has the solid and sustained backing of the local community. Please don't give Scotty from Marketing a belated chance of local hero status. Barry Ffrench, Cronulla
Keeping up appearances
All this fuss about women being complimented in public (Letters, September 29). What about the reverse situation? Twice I have been approached by strange women complimenting me on my appearance. Indeed, on the second occasion, while travelling home on the train, I noticed two women occasionally glancing in my direction who finally complimented me because I was wearing cuffs on my trousers and was reading a newspaper, i.e. The Herald. I took it in my stride even though my mother has always told me that I was the ugliest baby she had ever seen! Terry Funnell, Parramatta
Talking (brush) turkey
When returning from a lovely holiday after a particularly violent storm had left havoc in the form of branches, sticks and debris strewn all over the front yard, I was temporarily mystified to see it in pristine condition. Nary a leaf or stick to be seen. Until I saw the enormous but neat pile of debris in one corner. The local brush turkey had done the job.
Josephine Bode, St Ives
No easy answer
In my many years teaching I found few parents who wanted their disabled child to attend a "special school" ("Special schools' future in doubt", September 29). Whether a child attends such a school naturally depends on the type of disability and the severity of it. Disabled children are often ridiculed and teased in the mainstream which results in the disabled child feeling even more isolated. Disabled children often require extra time in preparation and time spent with the child in class which means the other 29 students receive less of the teacher's attention. There is no silver bullet to the problem of special education, but closing schools for disabled students will not improve the situation. Peter Miniutti, Ashbury
Class, clowns
Great letter from Tim Parker (Letters, September 29) about the refurbishment of Battersea and Tate Modern into world-class museums. We used to have one too (Powerhouse Museum, Ultimo) until the previous Coalition government and its management intervened. Keith Parsons Newcastle
Dog training
Correspondents writing in support of allowing dogs on public transport obviously have no thought for the people who have been traumatised by dogs. I still have the scars from a dog that "would never bite anyone". The only dogs allowed on public transport are well-trained guide dogs and that's the way it should stay. Pauline Croxon, Earlwood
Good on Clover Moore for putting forward the idea of pets on public transport. Living alone and not driving, with only the companion of a well-behaved dog I think this could be a great idea. Brenda Purchase, Balmain
Gods and men
The Pezzullo affair suggests one thing. The old autocorrect system of the ancient gods still holds true. Hubris > Nemesis. Rod Miller, Epping
House proud
Owning a home is obviously more important than entering a marriage ("Gen Z women value owning a home more than marriage, and it's about time", smh.com.au, September 29). After all, you can easily decorate a home. You can't say that about a spouse. Keith Russell, Mayfield West
Postscript
There have been animals swarming all over the Letters pages this week. We've had brush turkeys turning up their horned toes on the north shore, dogs poised to wreak havoc on public transport and – over in France – a bunch of Wallabies playing rugby like wombats.
Readers have been quick to lay the blame for our abysmal performance at the Rugby World Cup at the feet of Rugby Australia. John Dinan of Cheltenham expressed a popular view when he said that the board needed an overhaul "with fewer GPS alumni and more local high school representatives".
However, Matthew Nuttall from Banora Point put forward a solution. "After coaching Tweed River Rugby 3rd grade to three consecutive semi-finals in the 1990s I am willing to put my hand up for coach of the Wallabies. No training involved."
The biggest story of the week, however, was a series of revelations that powerful Canberra mandarin Michael Pezzullo had spent years using a political back channel to two Liberal prime ministers to undermine enemies and promote the careers of allied conservative politicians.
Readers were split between being horrified and amused; likening him to Sir Humphrey Appleby in Yes, Minister. John Dobinson from Herston said that "the whole public sector needs to be educated that it is to serve the public, swiftly, efficiently, fairly, without spite and without political bias or personal agendas".
As we approach the Voice deadline on October 14, the Letters team would like to make a special request. While we are committed to publishing a range of views, we would ask that you keep the commentary as respectful as possible. Emotions are running high, but we try to keep the letters page an oasis of calm, reasoned debate.
If you're in NSW, don't forget to change your clocks – and have a wonderful long weekend.
Margot Saville, deputy letters editor
To submit a letter to The Sydney Morning Herald, email letters@smh.com.au. Click here for tips on how to submit letters.
Catch up on the best letters and online comments on the topic of the week in our Friday wrap Yours. Sincerely
The Opinion newsletter is a weekly wrap of views that will challenge, champion and inform. Sign up here.