How this musical combines Max Martin songs with Shakespeare
When Luke Sheppard signed on to help bring Max Martin's songs to the stage five years ago, he happily admits he was a complete novice.
"I'm a musical theater geek through and through," says the impossibly youthful-looking West End veteran of London. "Pop is something new for me."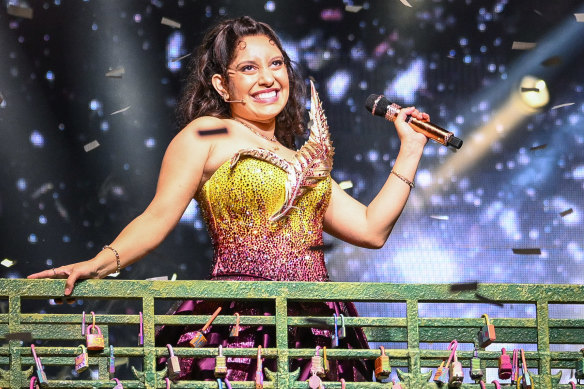 Working on & Julia — which meshes Martin's back catalog of some of the world's biggest pop hits with Shakespeare in a story that imagines what would have happened if Juliet had not followed Romeo into oblivion — wasn't just a job for Sheppard, it was an apprenticeship.
"I learned a lot about it [pop music] during that time and kind of geeked at it," he says. And one of the things he learned is how well form can (sometimes) work in a narrative context.
"It feels like these songs were meant to be a part of this show. They have Britney Spears with them …honey, one more time sing "My Loneliness Is Killing Me" and then in Stronger She sings 'My loneliness won't kill me anymore' and for someone doing a musical the dramaturgical potential of that as an arc is really extraordinary."
Sheppard, American choreographer Jennifer Weber and Martin, the Swede who has written more Billboard number one singles than anyone other than John Lennon (who has a lead at 26) and Paul McCartney (way ahead at 32) are in Melbourne to see the latest iteration of the show leading up to its official launch on Thursday night. Canadian writer David West Read, who came up with the idea of ​​mixing Martin's songs with Shakespeare, isn't here, but his co-creators can't praise him enough.
It was Martin's wife who suggested turning chart-topping 30 Years into a one-man jukebox musical, but it did Schott's Creek Veteran Read who brought it together into a coherent whole.
"Going in, I felt like we couldn't count on these pretty famous songs to make it through," says Martin. "You needed something where, if you hadn't even heard a song, you could come to the theater and go on a journey."
https://www.smh.com.au/culture/theatre/how-a-pop-novice-turned-the-world-s-biggest-hits-into-a-spectacular-show-20230308-p5cqfc.html?ref=rss&utm_medium=rss&utm_source=rss_culture How this musical combines Max Martin songs with Shakespeare