How taskforce Magnus aims to halt Sydney's public killings
NSW Police announced a new taskforce on Thursday aimed at scrutinising a string of deadly public shootings and the raging drug war that links the killings.
Taskforce Magnus, under the State Crime Command, will bring together eight existing strike forces and more than 100 officers and detectives.
Police Commissioner Karen Webb said the operation would seek to bust the "cone of silence" that veils the motives behind the tit-for-tat killings.
What does the taskforce look like and what is its scope?
Taskforce Magnus will scrutinise a month of violence that began with the slaying of cocaine kingpin Alen Moradian in a Bondi carpark on June 27. The most recent victims of the violence are Ahmad Al-Azzam, a 25-year-old who died on Thursday in hospital after he was shot in the head on Sunday at Greenacre, and Ferenc David Stemler, 28, shot dead outside his Canterbury home early Thursday morning.
The taskforce is an amalgamation of eight existing strike forces and 50 detectives already probing public shootings across Sydney, with an extra 20 detectives. Thirty police officers will be deployed to south-west Sydney to patrol areas plagued by violence.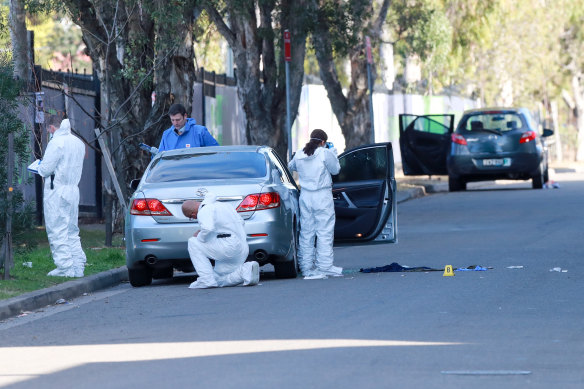 The taskforce's detectives will attempt to solicit information from underworld sources with knowledge of the recent attacks. Deputy Commissioner Hudson said a coordinated taskforce would be better equipped to identify the links between the shootings, which share common "modus operandi" – including public ambushes and torched getaway cars.
The strike forces folded into Taskforce Magnus include those investigating the May 22 killing of Marvin Oraiha in Elizabeth Hills, the July 7 shooting of two men in Marrickville, and the ambush of three people in Greenacre on Sunday.