How Singleton and Beetson got it right at Dolphins
In 2010, Beetson spoke up Rugby League Week (RLW) magazine on why he believed the Dolphins were a perfect fit for an NRL team.
He asked the magazine to ask his friend Singleton if he would put some of his money into it, as he had done at Newtown in the late 1970s. Singleton, who still sponsors the Jets, had helped propel Newtown from wooden spoons to NSWRL 1981 Grand Finalists after recruiting their mutual friend Raudonikis.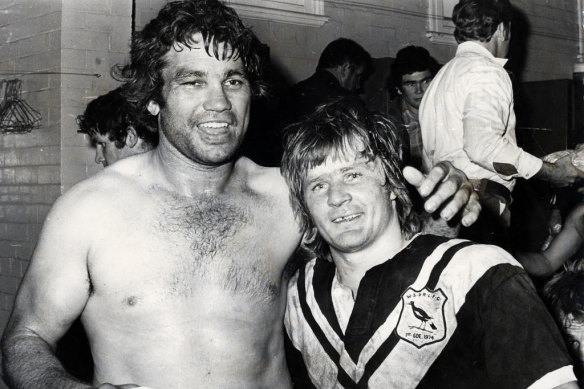 When RLW approached Singleton in 2010, he had bad news and good news for Beetson.
It was a "no" to funding.
"I don't care about ownership anymore," Singleton said.
Singleton had been passed around by administrators after pouring a fortune into his bid for a Central Coast NRL side and was in no mood to part with more of his hard-earned money. His bid to own the Broncos had also previously been thwarted by Lachlan Murdoch.
"In summary, he outwitted me. That gave me the shit," Singleton told AAP this week.
However, it was a giant yes to Beetson's vision for the Dolphins
"How crazy is it that there is only one team in Brisbane? There's no chance another team isn't working in Brisbane. I love Redcliffe and I love Arthur," Singleton said in 2010, before explaining why two teams could play from Suncorp Stadium, which would be a huge boost for broadcasters.
His overall assessment of the Dolphins was the same as Beetson's, who offered this summary of the Redcliffe landscape: "The bottom line is that Redcliffe has everything in place – their own field, their own league club and strong juniors… and they're 3 million people live in Brisbane and on the Sunshine Coast.
"They could share Suncorp until they can redevelop their own field at Redcliffe, but they can't do that without corporate sponsorship and the backing of someone big."
The Dolphins had laid the foundation for financial security and proved they could do it without Singleton's money.
Full of praise for the Dolphins, Singleton said the new NRL club had staged a coup by bringing in Bennett as their first NRL coach.
"He's the key," Singleton said.
"They're going to be competitive and once Wayne has a few wins – it won't take many – any win in Queensland will be greeted like an Origin win."
Singleton's love for Redcliffe runs deep, involving his close friend Forrester Grayson, who was one of the Dolphins' toughest players in the 1970s.
Singleton once had a night out with Grayson at the Redcliffe League Club where he was trying to recruit him to Newtown, rousing a rodeo promoter.
Loading
"Forrester told me Wayne (Bennett) used it a bit up there with the Dolphins. If you wanted someone who preached toughness and Arthur and Tommy weren't available, you'd go to Forrester," Singleton chuckled.
"I dated Forrester once. I woke up with a contract to (promote) rodeos in my pocket. I have to ride in them too. I did not know that.
"I was at the race track. I've been in the World and Australian titles. We've had the biggest crowds at the Sydney Showgrounds since the Empire Games in 1936. It has caused me more pain and injury than in 50 years as a tenth-rate footballer.
"I was supposed to get Forrester to come to Newtown and somehow he got me into doing rodeos."
Wild times aside, all these years later, Singleton's prediction for the Dolphins proved he was right with the money.
"For once," Singleton giggled.
– AAP
https://www.smh.com.au/sport/nrl/how-singleton-and-beetson-got-it-right-on-dolphins-20230310-p5cr15.html?ref=rss&utm_medium=rss&utm_source=rss_sport How Singleton and Beetson got it right at Dolphins