How Oprah Winfrey's right-hand man became WSL's top dog
WSL followed the same path, poaching Logan to manage and start his own WSL studios Do it or don'tsurfing's answer to that Drive to survive series that gave Formula 1 a mainstream audience, alongside a number of behind-the-scenes ventures.
Loading
A rapid rise to the position of CEO followed. And as surfing emerges from COVID-19 restrictions, controversial new formats for the World Tour have been spearheaded by Logan and his team in the name of drama and narrative.
A winner-takes-all finale at the end of the year-long tour, in which a runaway world No. 1 like Hawaiian Carissa Moore could be edged out by a fifth-place challenger like Australia's gold girl Stephane Gilmore, the result last year .
Gilmore herself was a vocal opponent of the format until last year when she stormed to an incredible, seemingly impossible eighth world title.
Even more controversial is the mid-year cut introduced last year, which eliminated the men's competition from 36 surfers to 24 and the women's from 18 to 12, prompting emotional scenes at the Margaret River Pro.
Depending on who you speak to, a question-and-answer session involving WSL officials and the 30 pro surfers protesting the move was either "robust" or downright hostile.
Logan isn't immune to criticism, but he's unrepentant nonetheless.
"The mid-season cut has upped the ante mid-season [of the season] and it's really led to more viewers and more engagement," he tells the herald.
"And then the second year of running the Rip Curl WSL Finals was massive drama and massive stakes as we watched what Steph Gilmore did by leading the table and winning her eighth world title.
Loading
"It's about how we push the sport forward. The art of storytelling whether you speak [rising Australian star] Molly 'Pickles' Picklum, or actually Pickles, whether it's Oprah content or browsing content, it's really all about that connection with the viewer and in a really authentic story that has stakes and drama."
WSL claims a record year in revenue (figures withheld due to the company's private ownership) and a "35 per cent increase in consumption" of event-related content on either side of the mid-year cut, proving the formats are a hit are with fans.
The second season of Do it or don'twith Logan as executive producer, revisits his time in TV land.
Where decades of surf movies have focused the camera on protagonists in their natural saltwater elements, Do it or don't relentlessly follows the world's best on land.
A behind-the-scenes look at Kelly Slater's legendary Pipeline win at the age of almost 50 and the dynamic in the Wright family of surfing, while Owen struggles with a concussion that threatens to end his career while he and sister Tyler caring for her ailing father are rarely given in the usual WSL hustle and bustle.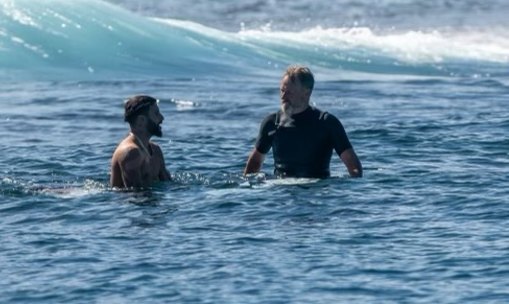 "It's so character driven," Logan says, praising the buy-in from WSL athletes. "It's really disturbing when we have cameras following surfers in all aspects of their lives.
"Especially after a really tough heat loss and in those emotional moments, they can have confidence that they will be profiled in a way that adds value to the sport and everyone."
Loading
Logan and WSL walk a fine line in this respect, unlike few other sports. No competitive activity has such strong counterculture roots as surfing.
Critics of any new drama-driven concept exist at both the professional and expert levels, and the WSL is seen as overly sensitive in some surfing communities, with a penchant for airbrushing drama when it doesn't fit.
Logan counters with a slice of Oklahoma simplicity.
"The growth and explosion of the sport with the firepower that we have with our surfers is something the sport has never seen. And our mission as WSL is really simple – to grow and create the world's largest platform for professional surfing."
https://www.smh.com.au/sport/something-the-sport-has-never-seen-the-former-oprah-exec-bringing-soap-opera-to-surfing-20230307-p5cpws.html?ref=rss&utm_medium=rss&utm_source=rss_sport How Oprah Winfrey's right-hand man became WSL's top dog