How Eddie Jones plans to put Wallabies back on top
If talking about a big game was a sport, Jones would be an Olympic gold medalist. He has made no secret of his desire to win this year's World Cup despite only having seven months to prepare.
Loading
Marinos was asked in France about his expectations for the Wallabies, who are ranked sixth in the world. He wants them to go all the way.
"He made it pretty clear that he's there to win and that's why we brought him back," said Marinos. "The expectation is to win the World Cup."
In comments sure to find their way quickly across the Tasmanians, Jones said the Wallabies would target the All Blacks in a bid to win back the Bledisloe Cup for the first time since his tenure in 2002. New Zealand have lost two World Cup semi-finals to teams coached by Jones.
"I think they're in a pretty good place but we're coming after them," Jones said. "We're going to follow them down the street, and that's a good thing.
"We want this rivalry to be tough and I think New Zealand want it too, so we'll make sure we follow them. I remember in Dunedin in 2001 when we won it. The party we had afterwards was fantastic.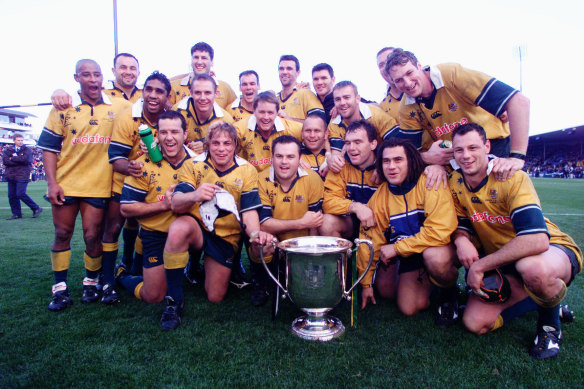 "Steve Larkham is now one of our super rugby coaches. He was brilliant that day manipulating space against the Kiwis.
"It's a big goal for us because as Australians we can beat New Zealand and we're in a good position to win the World Cup so we'll certainly prioritize that.
"But again [the Bledisloe Cup] won't be the be-all and end-all because the World Cup is a big tournament.
"We know the Australians played last time [a Bledisloe match in Australia] The referee made a difficult decision at the end of the game from which he is still recovering.
"If we can take the lead in the series then go to Dunedin…what a fabulous place to try and win back the Bledisloe Cup. That's the image in my head."
Eddie in his own words
What the next few months will look like:
"There are three big things. one; the staff. Two; the players. Three; how we play I used to have plan after plan – I used to have paper everywhere – and one of the things you learn with age is to have an idea in your head but not get too attached to a plan. I'll be in Griffith on Saturday [for the Waratahs and Brumbies trial match]. Saturday week I'll be in Narrabri so I want to go to these super rugby teams and meet the coaching staff. Everyone is here together, they also have a big role to play. Then I'll talk to the players as we walk around and then we'll retrain our staff. I can't flesh out our staff until I know what the players need. We'll be ready for the first game in Pretoria."
On losing two World Cup finals and whether that motivates him:
"I lost those silver medals somewhere, mate. I believe they are in the Indian Ocean. The last time I moved was from South Africa back to England. I had about five boxes containing one gold medal and two silver medals. I never got her back. So they're probably being sold at some bazaar in Cape Town. I forgot her. What matters now is what we do together every day and how we can get better."
Loading
What is the biggest misconception about him:
"I don't think it really matters what people draw of you because the only thing that matters is my relationship with the players. I'm sure they don't read the rubbish written by these guys. If they do, they're not smart enough to play for the Wallabies. They'll read your columns and say this and that, but we'll be concerned about building good relationships with the players and making sure the environment gives them what they need. The players need that. As coaches we are only servants of the players."
On the potential satisfaction of beating England:
"England is a chapter I enjoyed, loved, but it's closed. Now it's on to the next game which will be played in Pretoria against South Africa."
What legacy does he want to leave behind:
"If we win the World Cup it will change things for rugby in Australia. If you look at world rugby right now, there are six teams separated by a rolling paper. they are so tight The team that will learn the most over the next nine months will be the team that lifts the William Webb Ellis trophy at around 11pm on October 28 at the Stade de France. We intend that we are. Then children will want to play rugby. We have to create role models."
As for its intensity:
"You just have to find the right place for these players. Every player thinks they are playing 100 percent, but what we do know is that there is so much more to the human being. What we're trying to find is that five to ten percent where the ball flies over your head and you make a decision about whether or not you're going to run hard. I don't know how to train the Wallabies – whether I need to be tougher, support them or challenge them. What I do know is that our players are not lacking in talent. They don't lack talent. If you were to play a World XV with Talent today, you would have quite a few Australian players there."
On rugby's role in reconciliation:
"I remember going to kindergarten with the three Ellas. There was no difference between anyone. We were all the same kids. We played cricket, rugby, rugby league and there was nothing between us. I came back and taught here, taught math very badly. It was a different feeling. There was some animosity between people and now I think one of the things that really impressed me about Australian rugby is their effort to reconcile. We still need to do more for Aboriginal children and get them to play rugby. They have done well in other sports and we want to play more. We have seen what the Ellas have done for their people and we want to do more and I want to be a part of it."
Check out all the action from the Six Nations with every match streamed ad-free, live and exclusively on Stan Sport. Round 1 begins this Sunday, February 5th with Wales vs Ireland (1:05 ​​a.m. AEDT), England vs Scotland (3:35 a.m. AEDT) and Italy vs France (1:50 a.m. AEDT).
https://www.smh.com.au/sport/rugby-union/a-line-in-the-sand-how-jones-plans-to-restore-wallabies-to-the-top-20230131-p5cguc.html?ref=rss&utm_medium=rss&utm_source=rss_sport How Eddie Jones plans to put Wallabies back on top