How does your suburb compare?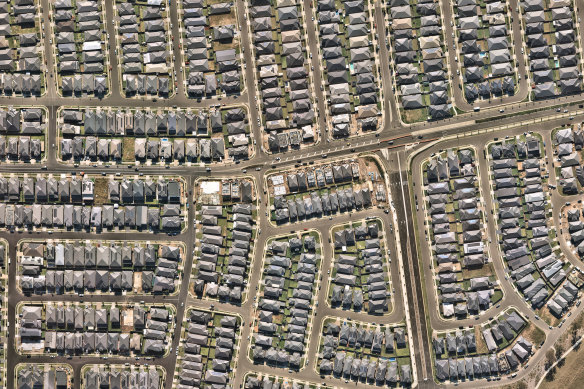 Sebastian Pfautsch, associate professor of urban planning at Western Sydney University, said new settlements on the outskirts – where most developers cut down the existing trees before starting construction – have not provided adequate natural shade.
Loading
Modeling indicated that even if trees grew along new shorelines, cover would only be about 26 percent, insufficient to mitigate the effects of intense heat.
"If you think about it, Marsden Park, The Ponds, Kellyville, Box Hill – everything you see in the north-west growth center is in the hottest part of the western Sydney basin," he said. "That's where they put hundreds of thousands of people, knowing full well that they won't have a shadow in the future. It's a disaster in the making."
Tree-sparse urbanized areas tend to have an industrial history with large turning circles, parking lots, and warehouses. However, Pfautsch said development in those suburbs has also failed to ensure open space is expanded or protected.
"The compaction process is most likely at the expense of clearance," he said. "It's far too expensive for municipalities to buy back land to plant green spaces in increasingly dense suburbs."
Green spaces are also vital to community health, said Thomas Astell-Burt, a professor of public health at Wollongong University. For example, those living in leafy suburbs like Mosman had far less diabetes than those in Blacktown.
"If you take a suburb with less than 10 percent roofing and increase it to 30 percent, you end up with a 31 percent lower risk of developing mental distress. [and] a 33 percent reduction in the likelihood of declining general health," he said.
"We need more equal opportunities for access to treetops. This is partly due to the mental and physical health benefits."
A spokesman for NSW's Department of Planning said a greening program – which includes $35 million in grants to municipalities to plant 170,000 trees over four years – aims to increase green space in Greater Sydney and increase urban coverage to 40 per cent by 2036.
Even if buying back green space is too expensive, governments can improve the quality of existing parks. Last week, Federal Environment Minister Tanya Plibersek announced $10 million to clean up the degraded Cooks River, which flows through the once heavily industrialized suburbs of south-west Sydney.
Loading
About $7 million of that will go towards establishing a wetland along the concrete-lined river in Parry Park in Lakemba, a suburb with only 10 to 20 percent tree canopy, the highest possible heat vulnerability rating and what is known as an urban heat island temperature rise of eight degrees.
Andrew Thomas of the Cooks River Alliance said Lakemba has very little natural space. "This will have direct health benefits for the people who live in that area," he said. The money will also go toward a new Bayside area kayak launch site and trash collection trap.
Get to the point of what's happening to climate change and the environment. Our environmental newsletter, which appears every two weeks, informs you about news, problems and solutions. Login here.