How a criminologist finds faces through forensics
There is a video shop card. A red Bauhaus baseball cap. A Native American headdress tattoo on the dead man's skin.
These are the pieces of a puzzle that is still unfinished more than a decade later.
On a September day in 2008, a worker on a Queensland dam stumbled over the body.
The man, believed to be between the ages of 45 and 65, was found on the eastern spillway of the Poona Dam, about 90 minutes north of Brisbane. He wore a long-sleeved black Duchamp shirt, gray sweatpants, and white and orange sandal shoes.
A brown leather bag was discovered next to his body.
But the man – his name, his life, his upbringing – remains a mystery to the investigators. Except what he probably looked like.
"We have his face," says forensic anthropologist and criminologist Xanthe Mallett. "We biologically know who he is."
Mallett, who lives in Sydney and works with police forces across the country, says the case remains one of the most frustrating.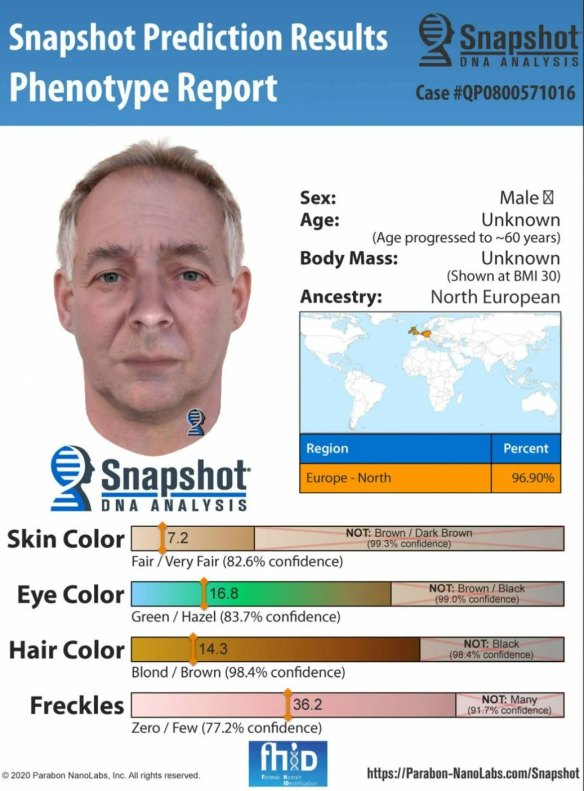 The man was identified genetically through DNA technology known as phenotyping — an area of ​​forensic science Mallett is known for, particularly in Queensland.
The relatively new technology uses DNA from crime scenes or cadavers to predict a person's appearance, taking into account factors such as the traits of the person's ancestors.
In one of the world's most high-profile cases, American serial killer Joseph James DeAngelo, the Golden State Killer, was arrested in 2018 after investigators identified distant members of his family through people who voluntarily submitted their DNA to public genealogy databases.
One company Mallett works with, Parabon NanoLabs in the US, is now so reliant on the technology that they solve a cold case nearly every week and are disappointed when they don't.
"It really depends on the DNA what's available," explains Mallett.
"For example, I was once asked if I could help collect a DNA sample from a watch that was in the trunk of a car belonging to an unknown deceased person.
"The watch was under the deceased."
Mallett says police were wondering if DNA could be extracted from the watch to determine who left it there and if it was that of the killer.
"Unfortunately, the deceased had completely decomposed in the trunk of the car, so any DNA on the watch would have been completely displaced by the decomposition process. We would never have been able to extract such a small amount of DNA with so much of the deceased overlaying it."
But the case of the man found at Poona Dam was complicated by the fact that he appeared to have been adopted.
"I can't tell you how frustrating it is to be biologically literate and have interacted with your biological family, and yet we can't give him back to the people who raised him.
"We still do not know his name and everyone is entitled to their name in death."
---
Mallett commends Queensland Police, who she says have been incredibly forward-thinking in their use of phenotyping.
Investigators often turn to it after exhausting other investigative leads.
Police are using the technology to solve the 1982 case of Owen "Eddie" Edward Crabbe, who was found naked and face down on the floor of a lounge at the Beachcomber Hotel in Surfers Paradise with stab wounds to his neck and head injuries .
Detectives believe Crabbe had put up a fight and the assailant's blood was found on the body.
Police used DNA from the blood to create a phenotype, or profile, of a man named "Michael" who Crabbe was traveling with at the time.
But Michael was not identified and the coat Crabbe was last wearing, his hotel key and money he had withdrawn before his death were never found.
"We have results," says Mallett. "We have a family tree… but what we don't have are close relatives.
"So we're still too far from that kind of genetic lineage to really narrow down who the blood is – in terms of the suspect or person of interest in this case – who that is.
"So we just need more people to upload their data because ultimately it's solvable. We can identify who this blood is.
"We just need enough people to upload their data so we can fill in those gaps in that genetic ancestry tree so we can narrow down who that might be."

Xanthe Mallett
"Obviously, they may not be alive anymore, but at least Eddie Crabbe's family would have answers."
However, Mallett's work is not limited to phenotyping. In one particular case in the UK, she was asked to compare a stepfather's hands to the hands in pictures of a physically and mentally challenged 13-year-old girl being sexually abused.
"I can still see her face in these pictures," says Mallett.
"She stayed with me. He was found guilty."
---
The criminologist is confident and clinical when she says she doesn't have post-traumatic stress or is concerned with the cases she's worked on.
She sees herself as a "little cog" in the machinery of justice, part of a complex machinery involving police officers, investigators, forensic analysts, legal experts and judges.
Mallett, who is based at the University of Newcastle, also devotes her time to the Innocence Project, which investigates allegations of wrongful conviction and advocates for reform.
It's what many consider the stuff of true crime entertainment, but Mallett says her work is about bringing justice to the dead.
"It's always about giving the family answers and respect for the victim," she says.
Those answers may come decades later, as in the case of Ursula Barwick, a 17-year-old girl who died in a 1987 car accident on the Hume Highway.
In death, Barwick was misidentified, complicated by the fact that she had changed her name, and her mother died before investigators could solve the mystery.
"I was asked to compare pre-mortem images, meaning images of Ursula in life, with post-mortem images of her. I had some from the scene of death, but also from the morgue," explains Mallett.
"You end up comparing apples and oranges because in life your face is animated, you smile. While I compared this face smiling in pictures with a deceased person where the picture of the face is totally relaxed. It is very difficult."
Mallett and the team were eventually able to determine that there were similarities in their tooth pattern.
"That was really strong. She was estranged from her family, she changed her name, and it wasn't suspicious.
Loading
"But it was a great case to be involved with because I felt I had done my small part in bringing this young woman home.
"She could have stayed unrecognized in a corpse refrigerator forever."
Mallett says dozens of cases could be solved if people voluntarily donated their DNA to genealogy databases like those in the US, and urges people to remember that investigators had limitations and had to get permission before they analyzed DNA.
"If there is much broader acceptance here, it could certainly revolutionize the John and Jane Doe cases, but also more recent investigations, and really help move them forward in these early stages."
https://www.smh.com.au/national/queensland/cold-stare-how-a-criminologist-finds-faces-through-forensics-20230201-p5ch4w.html?ref=rss&utm_medium=rss&utm_source=rss_national How a criminologist finds faces through forensics