Hot Topics: William Barton
Each week Benjamin Law asks public figures to discuss the issues we are asked to keep secret by getting them to roll a dice. The numbers they land on are the subjects they are given. This week he speaks to William Barton. The musician and composer, 41, holds a double honorary doctorate and associate professorship from the Australian National University. He has released five albums and is the 2023 Australian of the Year in Queensland.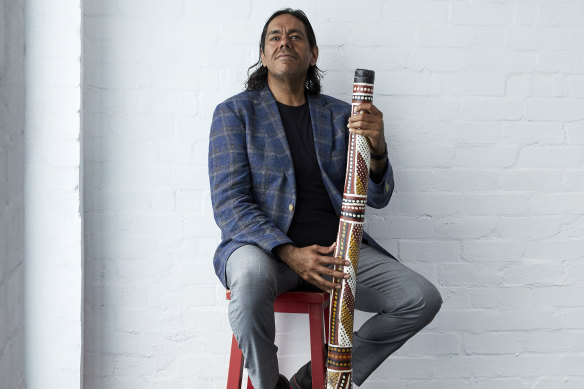 MONEY
You are a Kalkadunga man who grew up near Mount Isa in Queensland. How did money grow up? There was a fascination with money as this elusive object. Money was about survival. Our household consisted only of a working-class family: two brothers and one sister. My father was part of the team that put up telephone poles in the desert, and my mother worked at the tribal council cultural center. We had nothing, but there was always music.
Were you all musical? Music was everywhere: country and western music on weekends, folk club meetings and our own indigenous heritage. We have songlines that are thousands of years old. When you're around elders, our Song men and Song women, singing songs that have long evoked the landscape, it's a very special energy.
At 12 you were widely considered a child prodigy and left school to work as a musician. Did you make money right away? No – and if there was anything, it was returned to my family and community. My first tour abroad took me to the USA, Canada and Hawaii in 1997 at the age of 15; I had my 16th birthday in Edmonton, Alberta. We're on the land of the local mob – Indians and Indians – and I remember they fed us at this Italian restaurant. Otherwise we lived on bagels and cream cheese! That was the wealth for us: connectedness and being able to live the dream.
Loading
BODY
You lost a significant amount of weight as an adult. can you tell me about it Back in my 30s I was significantly overweight: 160, 170 kilograms. I say, "Okay, it's time for warrior mode." I was ready to look for love. Also, I wanted to make sure I could babysit my mom if I had to. So, in the midst of a hectic national and international touring schedule in 2018, I quit drinking and hired a personal trainer.
How difficult was it? If it were easy, everyone would do it; it is not easy. But it's me and my mindset, which is, 'It's time for a change and that's what I want to be in 10 years.' I wanted to be fit, not just for me, but for the next generation – to them to show that you can grow out of your shoes in the world, but still need to be grounded and connected. It took a considerable amount of time to give up alcohol and build up my stamina. For the past few weeks I've been back on the 16/8 schedule [eating during an eight-hour window before fasting for the next 16 hours]Run 20 kilometers a day and go to the sauna.
https://www.smh.com.au/culture/music/time-for-warrior-mode-how-william-barton-got-fit-and-how-it-s-helped-his-music-20230119-p5cdue.html?ref=rss&utm_medium=rss&utm_source=rss_culture Hot Topics: William Barton