Hermes wins MetaBirkins lawsuit, jury unconvinced NFTs are art
"What happened today was wrong," he said in a statement. "What happened today will continue to happen if we don't keep fighting."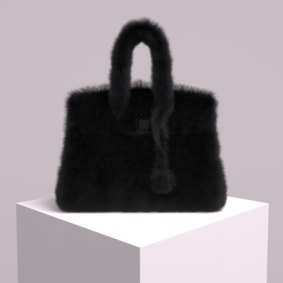 The ruling could provide trademark owners with some guidance, said Megan Noh, an arts attorney unaffiliated with the case, "about the line between works of artistic expression and commercial goods."
Named after actress Jane Birkin, Birkin bags are handcrafted and require a minimum of 18 hours of manufacturing time by specialized artisans. Hermes doesn't disclose how many of the bags have been made since their launch in 1984, but some luxury goods researchers estimate that there are now more than a million Birkins on the market. In 2021, auction house Sotheby's sold a Birkin for more than $226,000.
Rothschild had plans to create 1000 MetaBirkins in what he has described as an "ironic nod" to the renowned brand, but only 100 have been launched since the project began in 2021.
Each cost $450, and Rothschild also received 7.5 percent of secondary sales. Hermes has claimed in court filings that MetaBirkins totaled approximately $1.1 million in sales. Rothschild has estimated that he made approximately $125,000 from the NFTs, including initial sales and royalties.
"What we're seeing in the Hermes case is how emerging technologies and historical, age-old brands collide," said Ari Redbord, head of legal and government affairs at TRM Labs, a blockchain analytics firm.
Loading
For the past decade, the French company's Birkin collection has generated sales of $100 million each year. In testimony played during the trial, Robert Chavez, President and CEO of Hermes of Paris, said he was not aware of any revenue the company lost as a result of MetaBirkins.
Oren Warshavsky, an attorney representing Hermes, argued during the opening statement in the U.S. District Court for the Southern District of New York that MetaBirkins confused consumers who believed it was affiliated with the fashion brand.
"The reason for those sales was the Birkin name," he said.
Rothschild's legal team questioned whether people wealthy enough to afford Birkins, which cost thousands of dollars and often have years of waiting lists, would be truly misled by his art project.
Millsaps also argued that the NFTs are art protected under the First Amendment as free speech. He said Birkins are a "cultural symbol of rare wealth and status, ripe for artists to explore as metaphors of consumption."
"Art doesn't exist in a vacuum – it's often about context," he said.
Blockchain assets like MetaBirkins have been part of the cryptocurrency financial boom-and-bust cycle in recent years. At the peak of the market, there was a $40 billion digital collectibles industry, but over the past year that fortune has dwindled as the volume of NFT sales fell 97 percent.
Nonetheless, lawsuits, including trademark disputes, are still taking place in the ailing industry that focus not on the technology itself, but on the essence of what users have stored on the blockchain.
According to Noh, the best protection artists have from trademark disputes is the Rogers test, a legal standard introduced in 1989.
In this case, actor Ginger Rogers had sued film producer Alberto Grimaldi, arguing that the film Ginger and Fred violated her trademark rights by using her name in connection with the fictional depiction of two shabby Italian dancers. However, a federal appeals court found that the use of the name Ginger was a meaningful element of the title, artistically relevant to the underlying film, and therefore subject to First Amendment interests, which had to be balanced against the risk of misleading consumers.
Rebecca Tushnet, a Harvard Law School professor who helped prepare Rothschild's defense, said the Rogers test means that "unless their work is artistically irrelevant or explicit, you can't hold someone liable for infringement." misleading".
During the trial's opening statements, Hermes attempted to minimize Rothschild's credibility and artistic intent by focusing on his business strategy and displaying text messages urging social media influencers to "make another shill post," fueling demand could increase after his NFTs. The company's lawyer also told the jury that Rothschild posted his cease-and-desist letter on social media in the hope that the conflict might spark interest.
Judge Jed S. Rakoff granted Hermes' motion to bar a report by art critic Blake Gopnik that favorably compared the MetaBirkins to artworks by Andy Warhol and Damien Hirst. (Gopnik writes for the New York Times.)
The defense painted a more sympathetic picture of the 28-year-old Rothschild, who after dropping out of college worked in retail for streetwear brands and luxury brands like Saint Laurent. In 2021, he and Ericka del Rosario, now his fiancé, opened a concept store in Los Angeles called Terminal 27. He often hired assistants with the technical skills he lacked to work on projects including MetaBirkins.
Rothschild is "a conceptual artist," said Millsaps, his attorney. "The idea generator, not the guy doing the job."
The strength of the trademark rights will soon be tested again when a case between Jack Daniels and VIP Products, which sold squeaky dog ​​toys resembling the whiskey maker's bottles, comes to the Supreme Court.
Some fashion industry veterans wondered why Hermes even bothered to litigate the case. Although Chavez testified that the company has been experimenting with its own NFTs, including a project due to be released this year, it has let other unsanctioned projects slip, such as when New York-based collective MSCHF brought the Birkin bag to $76,000 -Turned into dollar-priced "Birkinstocks". .
Ian Rogers, the former chief digital officer of fashion conglomerate LVMH who currently works at a crypto firm called Ledger, said the company's involvement with Rothschild is puzzling.
"Maybe this hit is close to home," Rogers said. "Luxury people should understand NFTs because if you've ever explained why someone would pay $18,000 for a bag, then you're pretty good at explaining why someone would pay $3,000 for an NFT."
This article originally appeared in The New York Times.
https://www.smh.com.au/business/companies/hermes-wins-metabirkins-lawsuit-jurors-not-convinced-nfts-are-art-20230209-p5cjey.html?ref=rss&utm_medium=rss&utm_source=rss_business Hermes wins MetaBirkins lawsuit, jury unconvinced NFTs are art