Grey's Anatomy Season 19 Episode 10 Recap "Sisters Are Doin' It for Themselves" – Alexus Renée Celebrity Myxer
Grey's Anatomy Season 19 Episode 10 "Sisters Are Doin' It for Themselves." Catherine returns to Grey Sloan for a surgical case that makes Lucas and Blue queasy. Amelia treats a possible cancer patient with a family that's a little too supportive. Owen takes his medical future into his own hands, much to Teddy's surprise. Here's what you missed!
Air Date & Time: Thursday, March 16, 2023, at 9 pm ET, 8 pm CT, and 6 pm PT on ABC.
Stay right here, stay mixed in for exclusive updates! Drop your email to get insights into your inbox…
Watch Grey's Anatomy Season 19 Episode 10 Recap "Sisters Are Doin' It for Themselves"
Previously on Grey's Anatomy Season 19 Episode 9, Simone is met with a life-changing decision upon the return of someone from her past. Blue shadows Maggie on a risky procedure, while Jo and Link tend to a pregnant woman. At the intern house, Lucas and Mika throw a party filled with surprises.
Warning… Spoilers below!
On Grey's Anatomy Season 19 Episode 10, Simone struggles with seeing Lucas with a new girl, despite her recent engagement. Meanwhile, Blue and Lucas team up with Schmitt and Catherine on a penile surgery, which turns out to be too much for one of them. Owen is assessed in order to get his medical license back, and Jules has to deal with a tough patient loss.
Trying to Get Back on Track
Simone tries to focus, but can't because Lucas has an overnight guest.
Maggie is still staying at Amelia's and seems to be the houseguest that Amelia is already sick of.
While Jo and Schmitt are on their way into work, Schmitt spots Carlos and hides behind Jo. He's nervous since he hasn't seen him or called him since the party. Also, Carlos thinks he's cool, and Schmitt is walking into work with a bike and helmet. Jo covers him so he can scurry away.
Owen tells Teddy that he was granted an appeal and could get his medical license temporarily returned if his assessment goes well. Teddy is upset that he didn't tell her first, but Owen thinks it's the solution so that they stop resenting each other.
Link returns his interns because all of his cases cancelled, and drops them off with Schmitt. Catherine finds Schmitt and says they're late, and when Schmitt says he has to reassign Blue and Lucas, she invites them to help her operate on a penis.
Richard tells Natalia that her incision from her brain surgery is healing well.
Barbara, a woman with a tumor, is about to have it removed and tested to see if it's benign or cancerous. Her sisters, Deedee and Paula, reveal that all of them have had cancer, so they're convinced that Barbara does have it. Their other sister Carol did, too, and she survived the cancer, but fell off of a ladder. They keep her ashes in a box and take her everywhere with them.
A New Kind of Case
Teddy apologizes to Miranda for how she and Owen acted during dinner. She tries to butter Miranda up, but eventually asks Miranda to supervise Owen on his assessment because she's worried about the outcome. Miranda says no, and that she's rooting for him. Teddy sees Link, and asks him if he's busy.
Gerald, a 60-year-old man, is the patient with penile condition. Catherine reveals that Gerald had to wait with a bent penis for 6 months before his surgery. Gerald reveals that he told his wife and friends that he's at a conference, so nobody knows what's really going on with him.
Amelia sends Mika to get Deedee and Paula, and they ask her to get a cup for their dead sister Carol, too.
Blue and Lucas are shocked at the x-rays and wonder how Gerald has lasted so long. Lucas and Blue can't help but make crude jokes, and Schmitt tells them to get it out of their systems before they need to get serious for the surgery.
The assessor comes in and tells Owen to pretend he isn't there, he just needs to watch his practice and bedside manner. Owen goes to help patch up a head laceration, but the patient realizes Link as the doctor who killed the Tank. He asks who the assessor is, and Owen tells him what's going on, but assures him he's a qualified doctor. The patient, however, wants another doctor to help him.
Sometimes Bad Things Happen to Good People
As they're taking Natalia up to surgery, she begins coughing up blood.
Teddy watches as a patient yells at Owen and wants to leave, because she just has a UTI. She doesn't have time to wait, and gets up and leaves, despite Owen's recommendations.
Gerald asks Schmitt if the damage could be permanent. Schmitt reveals there's a 20% chance that it may be, but assures him that Catherine is the best. Gerald reveals that he didn't tell his wife Gloria because he doesn't know how she'll react if his penis can't be fixed. Schmitt, however, assures Gerald that his marriage seems permanent, regardless of the results of the surgery.
Richard, Maggie, and Jules look at scans, and see that Natalia's brain is bleeding. They call Winston in for a second opinion, but he reveals there's nothing that they can do except make her comfortable.
They break the news to Natalia, but Elliott isn't there, and Natalia doesn't want to tell him. She wants them to still plan their big trip, and asks the doctors not to tell him, either.
Hitting the Limit
Jo tells Schmitt that she talked to a nurse, who gave her a bunch of details on Carlos. Jo tells Schmitt that talking to Carlos would be easy, but Schmitt doesn't want to hear it, claiming he isn't like Jo so it isn't the same.
Owen helps a patient named Edgar who was an unrestrained driver and is suffering from blunt trauma to the chest. Link suggests they get a look at the lungs, but Owen thinks they need to act now. He cuts in to the patient right then and there while the assessor watches.
As Blue watches Catherine cut into the penis for the surgery, he passes out. Schmitt tells Lucas to drag Blue out of there.
Amelia takes Barbara to surgery, and finds an excuse to get rid of her sisters so that Barbara can have some space.
Jules finds Elliott outside of the hospital, who reveals that Natalia sent him to get a hot chocolate, which he knows she did because she knew something bad was happening. Elliott asks Jules if Natalia is dying, but Jules says he needs to talk to his wife. Elliott can tell, though, that the answer isn't good, and asks Jules how much time they have. However, Jules doesn't answer, which is an answer enough.
Winston steps in and they take Edgar up to the operating room. The assessor doesn't look pleased with Owen.
After Jules leaves Natalia's room, she starts to freak out. Richard finds her, and Jules can't believe that they aren't doing everything they could think of. She wants to heal people, not sit and wait for them to die. Jules feels like she's failing both Natalia and Elliott. Richard assures her that opening her up would only kill her faster, and that the best surgeons are the ones who learn to live with the worst part of the job.
Hold Me While You Wait
Barbara is prepped for surgery, and she asks Amelia to make sure that her sisters don't carry her around in a box if she dies during the procedure.
Miranda checks with Owen, who says the assessor said everything he needed and left. Miranda gets on his case about doing something reckless, and Owen defends his actions, saying Edgar would've died if he hadn't acted when he did. Miranda tells him to apologize for the things he got wrong, instead of getting defensive about all he got right.
Gloria finds Catherine and Schmitt, and reveals that Gerald doesn't know she's there. She handles the insurance payments, so she found out that way, but is okay with pretending she doesn't know to protect his pride. Once they assure her that the surgery went well, Gloria says she's leaving, and will wait for his call.
Richard tells Natalia that her pain is increasing, so they will give her the proper medications along the way. She and Elliott look at pictures and plan their next vacation and all of the amazing things that they will see on the way. Elliott makes sure to lay with Natalia and stay by her side until her last breath.
Finally Mending Fences
Lucas is angry that Blue made him lose out on the surgery because he had to babysit him the entire time. Blue offers to do Lucas' reports as a form of an apology.
Amelia tells Barbara that she doesn't have cancer. Barbara finally loses it on her sisters and tells them to stop joking about cancer with her, because it's not fun and she doesn't want it. Her sisters understand, even when Barbara tells them to stop carrying Carol around in the box. Her sister reveals that Carol isn't even in the box, she was left in Reno, so they've been carrying around cat litter the entire time. The sisters burst out laughing.
Owen goes to Teddy and apologizes for everything. He's about to leave, but then Teddy apologizes for everything as well. Teddy also tells Owen that he passed his assessment, and wants him to return as Chief of Trauma as soon as possible.
Mika teases Blue about his case, but then Jules shows up and says that Natalia died.
In the locker room, Lucas tries to talk to Simone, but she doesn't want to talk at all. Lucas asks what her deal is, but Simone says that it's just because she didn't get any sleep. Cara, the girl that Lucas had over, shows up in a doctor's coat and asks if he's ready to go.
There For Each Other
Schmitt tells Jo that he feels confident after the successful procedure, and the fact that he wasn't the one that passed out. Inspired by this newfound confidence, Schmitt goes to see Carlos and asks him out for drinks.
Richard sits down with Catherine and tells her that he knows that something is wrong. She had a "spiritual healer" help her that morning, but Richard knows they're meant to help with pain. Richard tells her that he's ready to hear whatever it is. Catherine finally reveals that her cancer is progressing.
Amelia checks in with Maggie, who asks to stay at her place one more time. Maggie reveals she's going to stay at a hotel, but Amelia says that they're there for each other, even after Meredith left.
Simone comes home to find Jules, Blue, and Mika painting and trying on ridiculous outfits. Simone joins in, and they all laugh off the day they've had.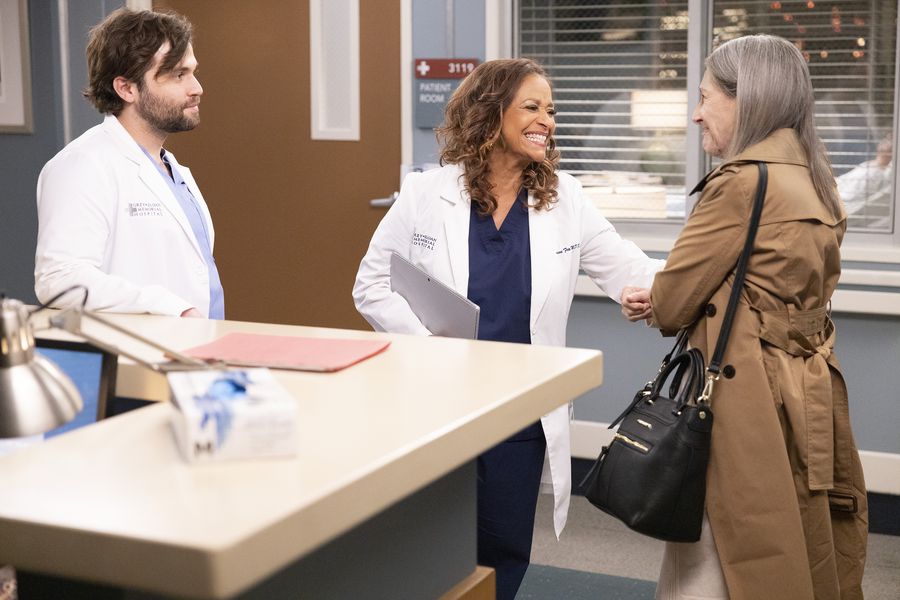 Dr. Catherine Fox and Dr. Levi Schmitt in Grey's Anatomy Season 19
Dr. Richard Webber and Jules Millin with patients in Grey's Anatomy Season 19
Dr. Catherine Fox and Benson Kwan in Grey's Anatomy Season 19
Dr. Maggie Pierce, Jules Millin and Dr. Richard Webber in Grey's Anatomy Season 19
What did you think of Grey's Anatomy Season 19 Episode 10? Let's talk about Grey's Anatomy in the comments below! Missed any of the episodes? Catch up with our recaps!
Grey's Anatomy Cast
Ellen Pompeo as Meredith Grey
Chandra Wilson as Dr. Miranda Bailey
James Pickens Jr. as Dr. Richard Webber
Kevin McKidd as Dr. Owen Hunt
Kim Raver as Dr. Teddy Altman
Camilla Luddington as Dr. Josephine "Jo" Wilson
Caterina Scorsone as Dr. Amelia Shepherd
Kelly McCreary as Dr. Maggie Pierce
Chris Carmack as Dr. Atticus "Link" Lincoln
Jake Borelli as Dr. Levi Schmitt
Richard Flood as Dr. Cormac Hayes
Anthony Hill as Dr. Winston Ndugu
Scott Speedman as Dr. Nick Marsh
Jason George as Dr. Ben Warren
Alex Landi as Dr. Nico Kim
Debbie Allen as Catherine Fox
Aniela Gumbs as Zola
Catch a new episode each week on ABC, check out listings dates below. Stay right here, stay mixed in for Grey's Anatomy Season 19 Episode 10, Addison makes a special appearance at Grey Sloan to welcome Bailey's new OB/GYN trainees! Drop your email to get insights into your inbox…
Grey's Anatomy Season 19 Episode Guide
| | | | |
| --- | --- | --- | --- |
| Season | Episode | Title | Air Date |
| 19 | 13 | "Cowgirls Don't Cry" | April 6, 2023 |
| 19 | 12 | "Pick Yourself Up" | March 30, 2023 |
| 19 | 11 | "Training Day" | March 23, 2023 |
| 19 | 10 | "Sisters Are Doin' It for Themselves" | March 16, 2023 |
| 19 | 9 | "Love Don't Cost a Thing" | March 9, 2023 |
| 19 | 8 | "All Star" | March 2, 2023 |
| 19 | 7 | "I'll Follow the Sun" | February 23, 2023 |
| 19 | 6 | "Thunderstruck" Fall Finale & Crossover with Station 19! | November 10, 2022 |
| 19 | 5 | "When I Get to the Border" | November 3, 2022 |
| 19 | 4 | "Haunted" | October 27, 2022 |
| 19 | 3 | "Let's Talk About Sex" | October 20, 2022 |
| 19 | 2 | "Wasn't Expecting That" | October 13, 2022 |
| 19 | 1 | "Everything Has Changed" Grey's Anatomy Season 19 Premiere | October 6, 2022 |
Photo credit: ABC
Post Views: 9
https://alexusrenee.com/greys-anatomy-season-19-episode-10-recap/ Grey's Anatomy Season 19 Episode 10 Recap "Sisters Are Doin' It for Themselves" – Alexus Renée Celebrity Myxer