Greta Van Fleet announce Starcatcher, their third album
New music from Greta Van Fleet is here. Today (April 7th) the band announced their third studio album, starcatcherdue to arrive this summer.
Prior to the album, Greta Van Fleet released "Meeting The Master," an existential new single that sees lead singer Josh Kizka embark on a spiritual journey.
"What a day to meet the master / I've been waiting for so long / Last day to meet the master / It's my time to go home," Josh sings over a simple, guitar-driven track.
starcatcher was recorded in Nashville with producer Dave Cobb. According to a press release accompanying the album announcement, starcatcher embodies the energy in Greta Van Fleet's live performances.
"We didn't have to really try hard or be intense while writing because everything that happened happened very instinctively," said the band's guitarist Jake Kizka. "If anything, the record is our perspective and encapsulates where we stand as a group and individually as musicians."
The album aims to tell a story that is symbolic of the duality that exists in human existence. It consists of 10 tracks, each part of a larger concept.
We had the idea that we wanted to tell these stories to create a universe," said Danny Wagner, the band's drummer. "We wanted to introduce characters and themes and these ideas that would arise here and there during our careers in this world."
You can listen to "Meeting The Master" above starcatcher Artwork and tracklist below.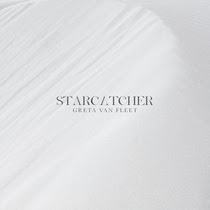 1. "Fate of the Believers"
2. "Waiting Your Whole Life"
3. "The Falling Sky"
4. "Sacred Thread"
5. "Runway Blues"
6. "The Indigo Stripe"
7. "Frozen Light"
8. "The Archer"
9. "Meet the Master"
10. "Goodbye For Now"
starcatcher will be released July 21st through Lava and Republic Records. More information can be found here.