Good weekend talks: Michael Cassel
It was a great start to the new year for Michael Cassel.
The cinema producer moved the mega hit Hamilton to Brisbane (and brought creator Lin Manuel Miranda to Australia to meet the team and promote the production). He opened the Moloch Mary Poppins in Melbourne to rave reviews. Then finally he started & Julia – a Broadway favorite based on the songs by international hitmaker Max Martin, flown in from Sweden for opening night.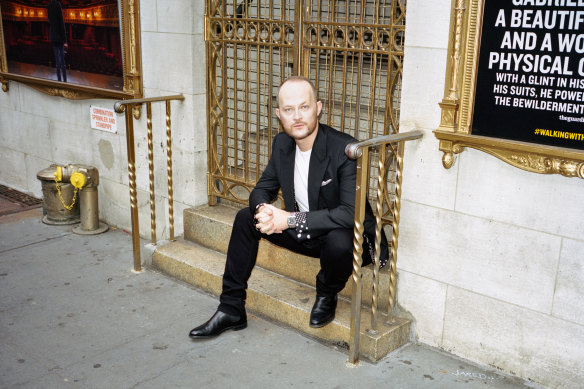 Coming down from it all would always get fuller.
"I arrived at the weekend and I was just sad. Part of it's exhaustion," says Cassel, "but there's something really exciting about being in the trenches with everyone you work with and that feeling of putting on a show. That excitement of sharing it with an audience… You're in this huge adrenaline rush, on cloud nine, and then the next day it's all over and it's just keeping up with the business of producing and maintaining a show . And then the hard work begins."
Cassel made these comments while discussing the latest episode of Good weekend talks – a "magazine for the ears" with talks by the best journalists The Sydney Morning Herald And Age and the people who fascinate Australia right now. And he knows a thing or two about hard work.
Loading
Cassel is the kid who got into showbiz straight out of high school and has since grown into one of Australia's biggest theatrical producers, bringing some of the most anticipated shows to our shores while naming a former Prime Minister a client.
Hosting this chat with him is Good weekend Editor Katrina Strickland leading a discussion on everything Cassel needs to make this leap from good to great by creating his own musicals, to his solution to Sydney's theater shortage to his plan for a new show the basis of John Farnham's song catalogue.
Good Weekend Talks offers readers the opportunity to delve deep into the day's authoritative stories, through weekly talks with a number of special guests. Listen to more episodes by subscribing to Good Weekend Talks, wherever you get your podcasts.
To read more Good weekend Magazine, visit our page below The Sydney Morning Herald, Age And Brisbane times.
https://www.smh.com.au/culture/theatre/michael-cassel-on-cloud-nine-moments-and-the-post-opening-blues-20230317-p5cszy.html?ref=rss&utm_medium=rss&utm_source=rss_culture Good weekend talks: Michael Cassel