God help America. We have a bumpy ride ahead of us
It's hard to be surprised by US politics these days, but a 20-second moment during this week's Republican presidential debate stunned me.
Eight presidential candidates attended the debate in Milwaukee, Wisconsin, including former Vice President Mike Pence, Florida Governor Ron DeSantis, former Ambassador to the United Nations Nikki Haley, and former New Jersey Governor Chris Christie.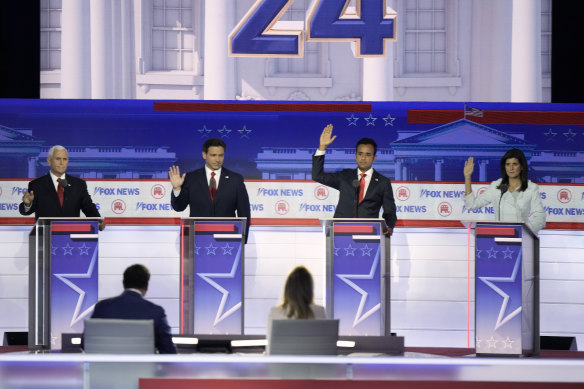 It was a pretty boring affair, save for a revealing maneuver by co-host and Fox News host Bret Baier, who asked the candidates about Donald Trump, who's so far ahead in the polls that he didn't have to bother to show him up.
Is loading
"If former President Trump were convicted in court, would you still support him as your party's choice?" Baier asked.
Six of the eight candidates raised their hands to show. Their reaction was pathetic, particularly from Pence, as he had attempted to assert moral superiority following the deadly Trump-inspired Capitol riot on Jan. 6. Pence only raised his hand when he saw five other candidates had done so. Haley raised her hand despite a sermon in the same debate about Trump being "the most unpopular politician in America."
The two candidates who did not raise their hand were Asa Hutchinson, the former governor of Arkansas, and Christie.
"Here's the bottom line," Christie said. "Someone has to stop normalizing this behavior. Regardless of whether you believe the criminal charges are right or wrong, the conduct falls under the Office of the President of the United States."
I was taken aback by the hand signal, but I really shouldn't have been surprised. Trump still ranks high in the party, and candidates will need to court his supporters if they are to stand a chance of taking the White House next November.