Glass Onion is the pandemic movie I didn't know I wanted
I don't like being told what to do, but this week, billboards, my Netflix homepage, and all my news feeds told me to watch it quite aggressively glass onion so – because I was going to do it anyway – I did it. Two and a half times.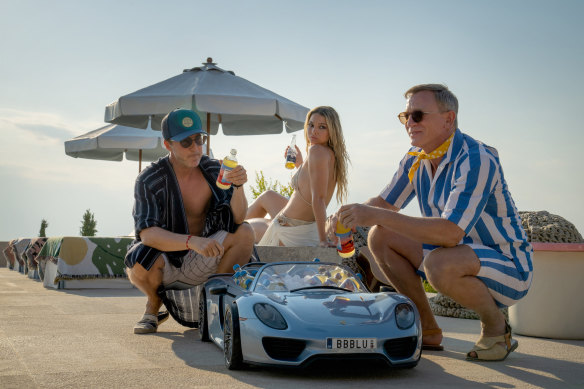 Loading
The cozy crime satire is a sequel to the hit 2019 film knife out, and reprises his role as Daniel Craig as Benoit Blanc, a modern detective at its best. In it, billionaire Miles Bron (Edward Norton) invites an eclectic group of "disruptors" to a private island to spend a weekend solving a mystery game he's orchestrated that involves his own (fake) murder turns. As you might expect, things don't go to plan and soon the bodies start piling up.
Between all the hijinks, twists, and miles of pop culture references, though, what surprised me the most was how much I liked that it was set in the first year of the pandemic. As soon as the title popped up in May 2020, my brain flickered – would this film pretend the last few years hadn't happened, or dig into it?
All feature films set in the real world as of 2020 must make a choice – ignore, acknowledge, or set in an alternate reality where COVID-19 never happened.
I'm not ready for serious lockdown-focused films, but at the same time I'm resentful of the idea of ​​a story set in 2021, where people still associate the word 'quarantine' with 18th-century boats bring. In that area, at least up until this weekend, I was that frustrating friend who, when asked what he wants to eat, says "I don't care," followed by a list of things he doesn't want, but doesn't offer any suggestions beyond that .
Turns out what I wanted was a little nod and then for the plot to continue.
In glass onion, the pandemic is part of the background but not the focus. Early on, in the scene where the characters are first shown together, their choice of face covering lets us know who they are.
https://www.smh.com.au/culture/movies/glass-onion-is-the-pandemic-movie-i-didn-t-know-i-wanted-20221228-p5c93c.html?ref=rss&utm_medium=rss&utm_source=rss_culture Glass Onion is the pandemic movie I didn't know I wanted