Gina Rinehart ups the ante in battle over Perth Basin Gas
Gina Rinehart's Hancock Energy has increased its bid for Perth Basin gas giant Warrego Energy by nearly 30 percent to 36 cents a share after reportedly selling about 15 percent of its target for 35 cents a share to his colleague Chris Ellison's Mineral Resources, billionaire Chris Ellison.
The escalating battle over Warrego and its key asset — a 50 percent stake in the West Erregulla gas field — began in November with an all-scrip bid from Strike Energy, which owns the other half of the gas field. This was quickly followed by a cash offer from Kerry Stokes Beach Energy at 20 cents a share.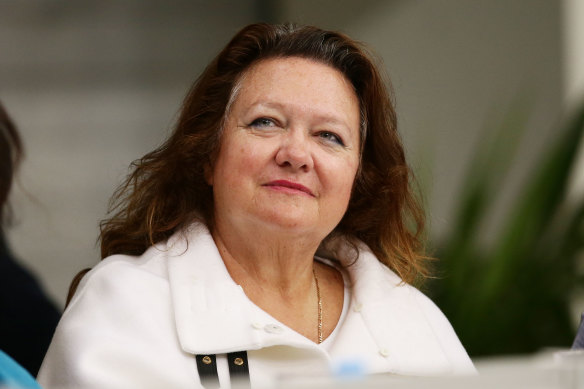 Beach pulled out of a bidding war when Gina Rinehart's Hancock Energy upped its bid for Warrego to 28 cents a share. Mineral Resources' announced move to acquire a stake in Warrego has forced Hancock Energy to further increase its supply. Mineral Resources — a diversified miner, mining contractor, and gas explorer — has yet to confirm the reported purchase.
In a bidder statement released Thursday, Hancock Energy said its offer of 36 cents per share was for Warrego shareholders who had previously accepted its lower offer but was contingent on Hancock achieving a 40 percent acceptance.
Hancock Energy also warned Warrego shareholders who supported Strike's stock offering that they may not receive capital gains tax rollover relief as Hancock Energy already owned more than 25 percent of Warrego.
Loading
Mineral Resources is already involved in another Perth Basin acquisition: the $400 million all-scrip offer for Norwest Energy and its 20% interest in the promising Lockyer Deep discovery, of which Mineral Resources owns the remainder.
Ellison said in November that he was interested in developing gas to power his mines and lithium refineries. In December, the Australian energy market operator forecast a tight domestic gas market in WA this decade and a significant supply shortage from 2030 onwards.
Mineral Resources could benefit from an association with Warrego if this would result in the sharing of infrastructure to develop West Erregulla and Lockyer Deep
https://www.smh.com.au/business/companies/gina-rinehart-ups-the-ante-in-battle-for-perth-basin-gas-20230105-p5caiv.html?ref=rss&utm_medium=rss&utm_source=rss_business Gina Rinehart ups the ante in battle over Perth Basin Gas