Geelong captain Patrick Dangerfield urges AFL to ban impact
Gawn, a six-time All-Australian ruckman, remains concerned about player safety, although the AFL's introduction of a smaller center circle in 2005 to reduce run-ups reduced PCL incidents. His new teammate Brodie Grundy and Carlton's Marc Pittonet both suffered long-term PCL setbacks in the sixth round last season.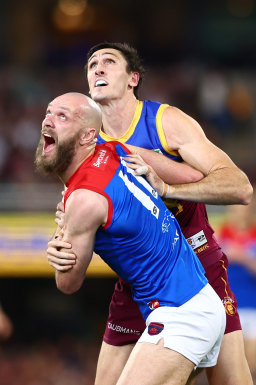 "I'm obsessed with center bounce stuff just because a lot of backpacks were going down with PCLs," Gawn said.
"I feel like one thing we can protect ourselves with is our arm, but we often get punished with our arms. You can use your arm in any other floor competition, but apparently not in center bounce jerk competitions.
In another ruck affair, Carlton captain Patrick Cripps said he was open to reintroducing a third man on stoppages. The AFL banned this practice in 2017, stating that only nominated ruck men could compete in a throw-in or ball-up contest.
"I have always loved the third man; That was a rule I really enjoyed," Cripps said. "I don't know if they would bring that back, but there are always small adjustments you can make. It just added a little more creativity and cleared congestion, but she [the AFL] she didn't want to [third-man up] jumping into the fray… because you have to protect the big boys."
Gold Coast co-captain Jarrod Witts, one of the league's top tap ruckmen, is vehemently opposed to the third man's return, fearing it would result in their elimination from the game and further injuries.
"We would be out of the game as a pack if that were the case. They don't know where the knee is coming from, so it can be dangerous," Witts said.
"The way the game is now; It's already open – I don't think it's really needed."
Gawn echoed those sentiments about the spectacle of the game and said he was back to watch AFL games.
"I love where the game is right now. I think it's a great brand — it's fast, it moves fast, it's electric," Gawn said.
"I've started watching it again. I went underground, and most footballers would have done so in this COVID era, but now I'm back to watching Friday night football almost from start to finish.
"I'm excited again, which I think is due to the rules and the state of the game."
News, results and expert analysis from the sports weekend are sent out every Monday. Sign up for our sports newsletter.
https://www.smh.com.au/sport/afl/ban-the-bounce-danger-calls-for-the-afl-to-turn-back-on-tradition-20230309-p5cquh.html?ref=rss&utm_medium=rss&utm_source=rss_sport Geelong captain Patrick Dangerfield urges AFL to ban impact