From the Archives, 1993: 500,000 Salute Mardi Gras
The procession meandered punctually through the city and culminated with a fireworks display in Moore Park.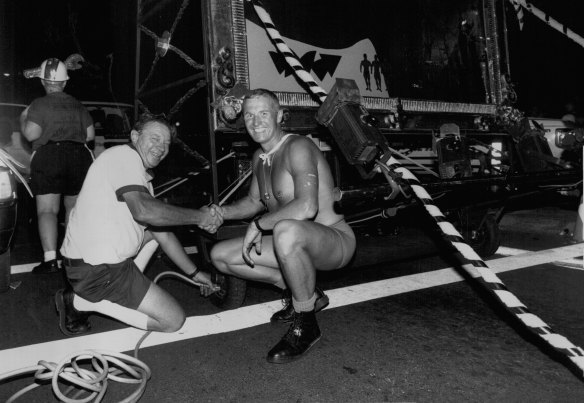 17,000 people then attended an all-night dance party at the exhibition site.
The parade organizers also held a special memorial service with a one-minute screaming session – instead of the traditional minute of silence – for AIDS victims.
Almost 100 police officers and 500 trained marshals ensured that the cars drove smoothly through the streets.
Surry Hills Patrol Commander Ken Beggs said last night's Mardi Gras was the best organized parade in the country.
Transportation authorities also provided 40 additional buses and doubled the number of carriages on most city trains to carry the parade crowds.
LOUD AND PROUD AND TALKY – A PARADE FOR QUEENS
(1st March)
It was loud, it was fun, it was proud, and it was cheesy. It was Sydney's biggest party of the year – the 16th and largest gay and lesbian Mardi Gras parade.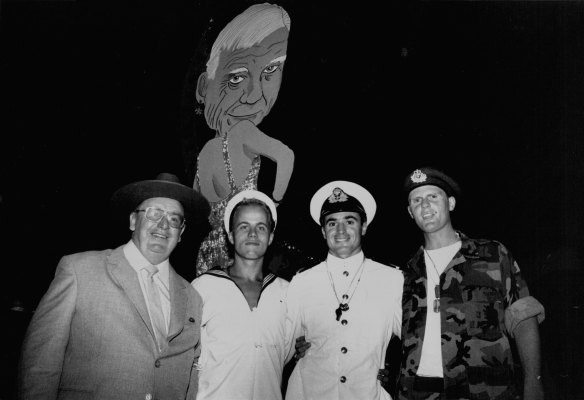 Amid the heat and heady smells of sweat, perfume, alcohol and marijuana, some 450,000 enthusiastic people lined the streets on Saturday night to watch the parade of nearly 100 colorful floats make their way down Oxford Street to a fireworks finale in Moore Park .
Many had waited more than three hours to get a good view, and they were coughing, aahing, whistling and shouting all the way.
Politicians were staged with a twenty-foot pink condom, a police officer was chased and kissed by a drag queen, a mother wept with pride for her gay son, and moralist Fred Nile called it all a "promiscuous orgy."
Six military veterans, attending for the first time, received a huge cheer as they carried a five-metre-tall effigy of RSL Victorian President Bruce Ruxton.
A small group of middle-aged men and women with a poster "Proud Parents of Lesbians and Gays" was also well received.
Twelve MPs marched behind a group of male cheerleaders in leather g-strings and more than 70 members of the award-winning Sydney Gay and Lesbian Choir sang along the route.
"Altos go down where it matters," read one poster.
One cop was applauded as he finally succumbed to a tall, tenacious drag queen in a purple net tutu, accepting a kiss that left his cheeks bright red from lipstick and embarrassment.
Ms Betty Roberts, 70, from Brighton-le-Sands, was among the crowd: "I'm having a great time, I feel like dancing too."
Ms Sandra Oliver, 44, from Clovelly, came with a group of friends: 'We love to see all the amazing bodies. It's really a shame – some of these men are beautiful."
Mr. Dennis Zhang, 26, a visitor from China, eagerly took photos and said he had never seen anything like it: "It's fantastic."
After the two-hour parade, about 15,000 revelers continued dancing until yesterday morning.
But for some, this carnival will be the last. From a large, quiet room at 66 Oxford Street, hospital patients with AIDS-related illnesses, some close to death, had a special view of the parade.
Mardi Gras President Ms. Susan Harben said they are "our most important guests."
Loading
The police were more than satisfied with the course of the parade. Thirteen people were treated for heat exhaustion but there were no arrests.
Sydney's companies should also be satisfied. Organizers say the month-long Mardi Gras celebrations, culminating in Saturday night's parade, will bring in about $16 million in tourism revenue.
https://www.smh.com.au/national/nsw/from-the-archives-1993-500-000-salute-mardi-gras-20230219-p5clq9.html?ref=rss&utm_medium=rss&utm_source=rss_national_nsw From the Archives, 1993: 500,000 Salute Mardi Gras