From the Archives, 1963: A dangerous journey ends
The crew started the auxiliary engine 10 miles from Barrenjoey Lighthouse at around 12:30pm yesterday and reached Sydney Heads at 4am
An hour later it moored at the Cruising Yacht Club's berth in Rushcutters Bay.
"We were glad to see Sydney so we could reassure the authorities we were fine," Mr Fenton said.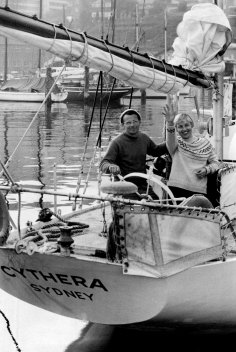 Radio damaged
"I tried to send a radio message for at least five nights, but the radio was damaged before we left Norfolk Island and we didn't have time to fix it."
The crew had heard reports of increasing concern for the yacht over an onboard transistor radio, but the ship's radiotelephone was unable to send or receive messages effectively.
Cythera's journey began on April 22 when the yacht left Cascade Bay on Norfolk Island bound for Sydney.
The Fentons flew to the island with Mr Mische and Mr McClemens to take possession of their yacht.
Damaged in collision
The 50-foot steel yacht that Mr Fenton had built in a Paddington backyard disappeared from the lagoon at Lord Howe Island on April 10 during a cruise break from Sydney.
On April 17, the £17,000 yacht was taken to Norfolk Island after a collision with the French freighter Colorado Del Mar.
"We had little time for repairs as the weather deteriorated and we didn't want to get caught up in bomboras around the island," Mr Fenton said.
We informed the police that we were making our way to Lord Howe Island, which we expected to reach on April 29th.
"On the second day we were hit by a storm that lasted for five days."
Eight days of better weather followed, allowing the crew to make ongoing repairs and recover.
The yacht sailed towards Sydney with a reduced mainsail, large jib and full mizzen.
A second, less severe storm hit the yacht on May 7th. By midday that day, Fenton's log read: "The sea is running high. Wind 50 knots NE."
The worst of the storm dissipated when the yacht was 180 miles northeast of Sydney after two days of further destruction.
Mr Fenton said the boat was not in danger, but he became concerned when a 9ft marker buoy bearing the ship's name was washed overboard.
"I thought it could have been found and raised fears that Cythera had sunk," he said.
After three days of stormy seas, in which the boat was lashed by a 70 mph storm, Cythera's log, penciled in a school exercise book, read:
"Friday, 10:00 p.m., 12:00 p.m.: The storms are easing."
Loading
"12 noon, 11pm Saturday: Wind still blowing at 50 knots. No sighting possible."
"I saw the sun for the first time in five days," said Mr. Fenton.
"I checked and found I was 200 miles off course. We were 500 miles from Sydney, well before Ballina.
"I considered going to Lord Howe Island but we were already on our way to Sydney so I decided to move on."
A few years later, Mr Fenton was preparing for another trip and caught the attention of the police when he advertised a "girl crew". Police, who suspected he was recruiting women, ended their investigation when it was revealed that it was two male crew members who stole the yacht in 1963.