From the archives, 1958: HIFAR goes live
But he restrained himself and turned to photographers nearby, saying: "Look, it's true. It means scram."
… and what would happen
Mr Page said it was hoped it would never be necessary to use the button.
He said many other safety devices acted automatically and independently, but the button brought them into action together.
He said that this would happen when he pushed the button:
The reactor would shut down and cadmium control rods inside the reactor core would fall down to absorb dangerous neutrons.
The reactor building would be sealed automatically.
A battery of sirens would blare out a loud warning.
Control officers would conduct "emergency drills" and take up positions to usher everyone in through escape hatches, similar to submarines.
Mr Page said a foolproof air conditioning system in the reactor building regulated airflow and filtered out dust which, if allowed to accumulate, could become radioactive.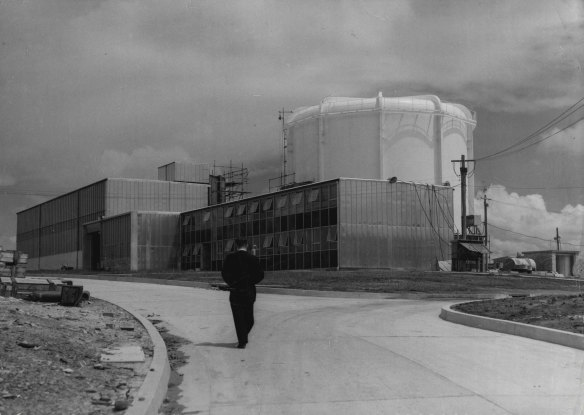 Every weld in the gleaming steel dome, 70 feet high and 70 feet in diameter, was x-rayed to perfection.
The building stands like a giant pressure cooker on the heights west of Prince's Highway, some 23 miles from Sydney.
It dominates the buildings scattered across the 120-acre site.
All precautions were taken in the well-equipped laboratories and workshops to avoid radioactive contamination.
An air conditioner draws air from the corridors first through rooms where work is done at low intensity and then through rooms at high intensity.
The air is then filtered and exhausted through a huge chimney.
"An Unlimited Future"
More than 1,000 people, including members of the federal and state parliaments, members of the judiciary, scientists and executives from industry and business, attended the opening ceremony.
South Australian Premier Sir Thomas Playford was among the official guests.
Mr Menzies said the occasion was historic and groundbreaking.
Loading
"Nuclear energy has an unlimited future, and that future will be even greater if we can eliminate the threat of war," he said.
"We in Australia are fortunate in that whatever the limits of our resources, we have large reserves of coal, substantial reserves of hydroelectric power either existing or under development and we have uranium, the fuel necessary for nuclear reactions is needed.
"Therefore, we can approach the Force scientifically, coolly, and with judgment, and fit it into the pattern of decisions about how to operate."
HIFAR operated until 2007 when it was superseded by the Australian Open Pool Light Water Reactor.