From blockbuster musicals to low-key, quiet performers, the city is starting to feel like itself again.
Even before the pandemic, there was a sense that we were losing ground to Sydney – and not just in terms of large-scale premieres such as Hamiltonthat Melburnians have had to wait until this year to enjoy, but also in the quality of our subsidized theater.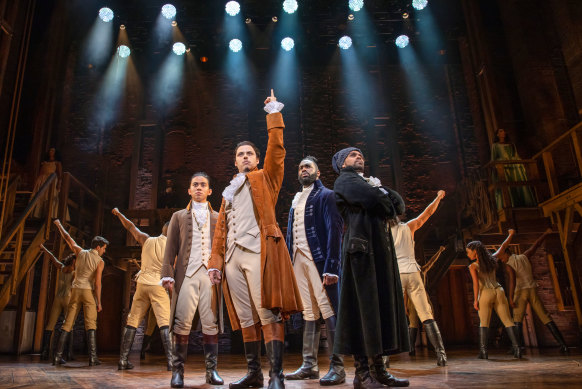 Melbourne Theater Company and Malthouse have both had a mixed year, dominated by productions postponed from previous seasons, and both could envy STC's ability to create contemporary theater that is so exquisite (or so eminently exportable). how The picture of Dorian Gray.
Still, the best came close and community could again be the key to success. Local playwright Aidan Fennessy died before he could see its premiere, but audiences enjoyed the wit of his funny, uplifting and wise final play. The Heartbreak Choir.
And the MTC won the music theater in 2022 fun homea whimsical and emotionally rewarding musical based on the life of cartoonist Alison Bechdel, who found fame on Bechdel Trials, this mixed coming-out story features the suicide of Bechdel's father.
Of course, the MTC also served up some serious stinkers. Virginia Gay's superficial, odd revision Cyrano of Bergerac looked like a vanity project to me.
Artistic director Anne-Louise Sarks needs to find a way to avoid such pitfalls with prominent artists, though it will be 2023 before she can impose her vision on the company.
Meanwhile, the malting has been actively courting various communities for some time. The results were important and invigorating.
John Harveys The return may have been awkward in performance – COVID restrictions necessitated a shift from an immersive performance style to a more traditional piece – but it was a powerful exploration of the ongoing struggle to repatriate Indigenous cultural artifacts and remains held in collections around the world be kept.
And Ra Chapmans K boxabout a Korean-Australian who confronts her adoptive parents showed just how surreal and subtle Asian-Australian comedy can be.
(It's also interesting that my favorite independent show of the year — a compelling bilingual adaptation of Yentldirected by Gary Abrahams at Arts Center Melbourne – also had a close-knit community behind it with the Kadimah Yiddish Theatre.)
Melbourne's famed East End theater district has had to cut its sails as commercial fares have been hit hard by the pandemic.
Viewers who missed the full, two-part incarnation of Harry Potter and the Cursed Child won't know what they're missing out on – and will still be having fun when they leave today – but revising and condensing it into a fast-paced sequel was clearly a financial imperative, not an artistic imperative. The show in its current form may be less successful in drawing audiences off the interstate and is certainly less appealing to veterans of the full version.
While musical theater highlights were not in short supply – Hamilton, six, hairspraywith dashing revivals Phantom of the opera and Joseph and the Amazing Technicolor Dream Coat – there were some strange flops. Neither were examples of overt commercial cynicism, but both Bob Dylan and Alanis Morrisette's jukebox musicals – Northland girl and Jagged little pillrespectively — failed to adapt dramatically to the music that inspired them, leaving fans clinging to nostalgia.
As Melbourne's stages continue to recover from disruption, effective and sustainable arts policies will be vital to the outcome. At the grassroots level, pandemic interventions appear to have worked wonders and our performing artists are used to leading from below. But it's high time to look at the bigger picture.
A cultural guide to going out and making love in the city. Sign up for our Culture Fix newsletter here.
https://www.smh.com.au/culture/theatre/rising-or-retreating-what-melbourne-s-year-in-theatre-has-taught-us-20221226-p5c8s5.html?ref=rss&utm_medium=rss&utm_source=rss_culture From blockbuster musicals to low-key, quiet performers, the city is starting to feel like itself again.