Fraser McReight stays with the Reds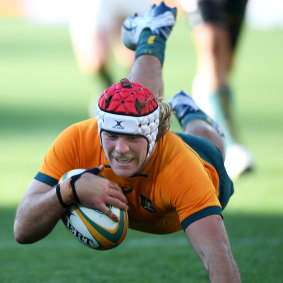 But a candid conversation with national team coach Eddie Jones recently drew attention to the Brisbane Grammar product.
Brisbane times understands that the shrewd, highly competitive coach urged McReight to be more specific when asked what the young flanker needed to improve on.
A revised response to certain defensive "work-ons" pleased Jones and helped the 10-cap wallaby recalibrate its vision to gold glory.
"It was a good conversation," McReight said.
"He said I can be a great player, very influential, but there are things I need to work on.
"These are not new things. It's not about recreating the wheel or anything, it's just about getting the basics right."
With wallaby flanker Michael Hooper expected to retire from international rugby after this year, McReight is seen by many as the heir apparent to the No 7 gold jersey.
"I'm not just happy [and] thinking, 'I locked that position up'. That's not the case at all," he said.
"It's about welcoming competition – healthy competition – and wanting to be the best player I can.
"The best thing I can do is play well during the super rugby season and try to put pressure on there."
Sitting behind Hooper also helped.
While less patient players would have gone to chase money overseas – and some did – fearing never getting a chance behind the former captain, McReight saw another opportunity.
"The positives I take from that is not a lot of people are in that position and get to see Hoops coming through week in and week out and I get the opportunity to see what he's doing on the field and off the field Feld too, that was lucky.
"Watching and listening is a wonderful opportunity to learn and grow.
"Although it was frustrating at times because I want to play, I would say it was also very positive to see one of the greats play."
McReight will be back in Queensland No. 7 on Sunday when the Reds meet Fijians Drua at Suncorp Stadium.
https://www.smh.com.au/sport/rugby-union/awesome-things-coming-up-fraser-mcreight-to-stick-with-reds-20230315-p5csfk.html?ref=rss&utm_medium=rss&utm_source=rss_sport Fraser McReight stays with the Reds