Forrest is considering buying a solar farm from Sun Cable and forgoing the connection to Singapore
Mining tycoon Andrew Forrest has said he continues to support Sun Cable's plans to build a massive solar farm in northern Australia, despite a dispute with the project's other billionaire, Mike Cannon-Brookes, over whether to let him over a 4200-kilometer submarine cable to connect with Singapore.
The company behind visionary 20-gigawatt solar and battery farm Sun Cable in the Northern Territory was thrown into voluntary administration last week after Forrest and Cannon-Brookes – the country's two richest men – failed to agree new financing terms.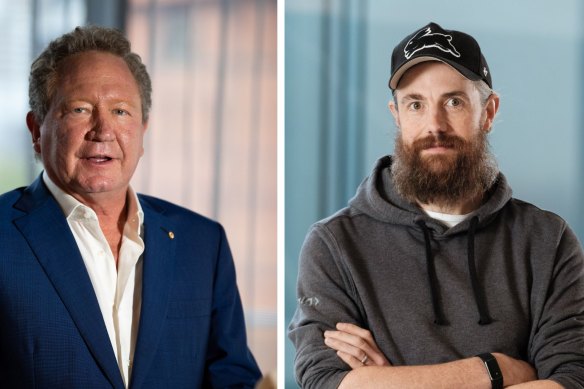 The collapse came amid a disagreement between the former business partners over whether some of the project's renewable energy should be exported to Singapore or used entirely domestically. Grok Ventures, the private company of tech billionaire Cannon-Brookes, said Friday that all shareholders except Forrest wanted to prioritize the original plan.
"This was the reason the founders started the company and the reason investors invested in the company in the first place," said a Grok spokesperson. "Once operational, Sun Cable would generate power to supply renewable energy to both Singapore and various projects in the Northern Territory."
Squadron Energy, part of the Forrest family's private company Tattarang Group, has confirmed that it is considering making an offer to purchase Sun Cable. It said it supported plans for an 800-kilometer link from the solar and battery farm to Darwin, but no longer the Singapore link.
"Following a comprehensive technical and financial analysis, which included customer feedback, Squadron Energy has concluded that Sun Cable's Australasian PowerLink project is not commercially viable," said John Hartmann, Chairman of Squadron Energy.
"However, Squadron Energy remains committed to the vision of a pioneering solar and battery project in the Barkly region of the North Territory, including the proposed link to Darwin."
Technical and financial analysis, as well as customer feedback, had led Squadron Energy to conclude that Sun Cable's Australasian PowerLink project was not commercially viable, the company said.
https://www.smh.com.au/business/companies/forrest-mulls-bid-to-buy-sun-cable-solar-farm-ditch-singapore-link-20230116-p5ccrl.html?ref=rss&utm_medium=rss&utm_source=rss_business Forrest is considering buying a solar farm from Sun Cable and forgoing the connection to Singapore