Former Geelong Cats player Max Rooke is leading a concussion class action lawsuit against the AFL in the Supreme Court
Dual Geelong Premiership player Max Rooke is the lead plaintiff in a landmark class action lawsuit against the AFL, filed in Victoria High Court, seeking damages for alleged concussion injuries suffered by former players.
Margalit Lawyers filed the lawsuit Tuesday on behalf of players who were employed by one or more AFL clubs between 1985 and March 14, 2023, who either suffered concussion or suffered damage from concussion.
The lawsuit alleges that Rooke suffered "permanent, life-altering injuries as a result of concussion-related injuries and as a result of the AFL's negligence."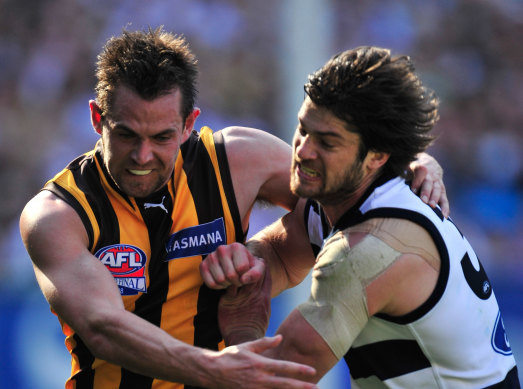 Rooke made 135 appearances for the Cats from 2001 to 2010 and played in the club's Premiership in 2007 and 2009.
He was a member of the club's leadership group in 2007 and after retirement worked as an assistant manager in Geelong, the Gold Coast and Melbourne. He played in one game for his local club Casterton in 2021 alongside Premiership team-mates Brad Ottens and Mathew Stokes. Rooke is 41 years old.
The claim states that he is one of seven or more players involved in the action and that Rooke suffered approximately "20 to 30 times" concussion and was knocked unconscious twice. It is unclear which other actors are involved in the campaign.
Margalit Injury Lawyers principal partner Michel Margalit said in a statement it was time to provide compensation to players who suffered the effects of headbutts from playing in the AFL.
"The injuries sustained by this group of former AFL players as a direct result of concussions while playing Australian rules have had a devastating impact on their lives and the lives of their loved ones," Margalit said.
"Some of the players who joined this landmark class action lawsuit were never able to keep a job after leaving the AFL. Their personal lives have been destroyed and they live in constant physical and mental pain. It is heartbreaking and they need proper care."
https://www.smh.com.au/sport/afl/former-geelong-player-rooke-to-lead-class-action-lodged-against-afl-in-supreme-court-20230314-p5crxx.html?ref=rss&utm_medium=rss&utm_source=rss_sport Former Geelong Cats player Max Rooke is leading a concussion class action lawsuit against the AFL in the Supreme Court