Food sector warns of Christmas labor crisis
Although some fresh produce growers are confident that fruit and vegetable volumes will recover in the coming weeks and months, the hospitality industry is bracing for lower availability and higher prices.
"We know cherries, we know tomatoes, all those important things you eat at Christmas are all going to be very expensive," Clarke said. "Until Christmas [a dozen] Sydney Rock Oysters, specifically at a restaurant, will cost you over $100."
Meanwhile, the boss of restaurant delivery platform Foodbomb, Paul Tory, said the hospitality industry hasn't been supported since JobKeeper broke up. "It's going to cost everyone when staff costs are this high… All Australians are going to suffer."
'Get a crack on': Act fast, food guides urge
The Seafood Industry Association (SIA) has proposed to the Albanian government to expand requirements for the Class 400 temporary work visa, a six-month visa that allows foreign workers with "highly specialized skills, knowledge or experience".
SIA chief Veronica Papacosta said the federal government had shown a willingness to respond to the labor crisis, but there was still too much bureaucracy in the way, with around 950,000 visa applications still to be processed.
"There is a short-term need. We need immediate results," Papacosta said. "We feel heard, we just have to make an effort."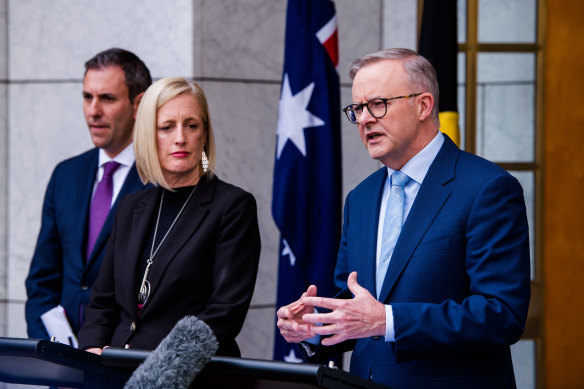 However, Australian Meat Industry Council (AMIC) chief executive Patrick Hutchinson said securing a stable workforce would require more than just issuing visas and ensuring adequate housing options, as well as providing a route to permanent residence.
"We don't want people to stay for three months. We want them to stay for the rest of their lives," Hutchinson said. "We really need a fair full Dinkum program, not just a visa."
With meat processing plants mostly located in regional and rural Australia, four out of five AMIC members operate at 75 percent capacity or less. "What we don't want to see is what happened in January when Omicron struck … we had beef off the rack."
Loading
The coalition also urges the federal government to urgently adopt a long-term national food supply chain strategy given the increasing frequency of natural disasters on the ground.
A failure to act will threaten long-term domestic food security, said IFDA's Forbes. "When these natural disasters occur, there will be food disruption, food shortages and continued increases in food prices."
National Farmers Federation President Fiona Simson said the federal government needs to cut red tape to achieve "quick wins".
"Farmers have been waiting for answers to our labor crisis for years," she said.
"We're tired of waiting."
The Food Industry Alliance, which includes the National Farmers Federation (NFF), Restaurant and Catering Association (RCA), Australian Meat Industry Council (AMIC), AUSVEG, Master Grocers Australia (MGA), Independent Food Distributors Australia (IFDA), Seafood is owned by the Industry Association (SIA) and the Australian Association of Convenience Stores (AACS), representing over 160,000 member companies and generating over US$200 billion in sales.
The Business Briefing newsletter delivers important stories, exclusive coverage and expert opinions. Sign up to receive it every weekday morning.
https://www.smh.com.au/business/small-business/100-for-a-dozen-oysters-food-sector-warns-of-christmas-labour-crisis-20220920-p5bjm3.html?ref=rss&utm_medium=rss&utm_source=rss_business Food sector warns of Christmas labor crisis