Flyover bridge for new highway link to Sydney Airport takes shape
The final steel beams for a flyover bridge that will form a crucial part of a toll-free motorway link to Sydney Airport have been installed, helping pave the way for the $2.6 billion project to be completed by the end of next year.
The so-called Sydney Gateway Motorway will extend from an interchange for the WestConnex Toll Road in St Peters to the airport's domestic and international terminals at Mascot and closer to Port Botany.
The flyover near the airport's domestic terminal and Qantas aircraft hangars required the installation of 86 girders and is one of 19 bridge structures on the five-kilometer highway. This separates the vehicles going to Mascot and Port Botany from those going to and from the airport.
The overpass roadway will be concreted and paved over the coming months, while Aboriginal art will be installed on the exterior. The first of two arch bridges across the Alexandra Canal near the International Terminal will also be constructed in the next few months.
The gateway was originally scheduled to be completed in 2023, but the previous coalition government conceded a few years ago that it would take about a year longer.
NSW Roads Secretary John Graham said the project will provide motorists with faster and more reliable journeys from the St Peters transport hub to Sydney Airport, the M5 motorway and the Eastern Distributor by the end of next year.
"This project is an integral part of reducing travel times from Sydney West. The estimated time saving from Parramatta to Sydney Airport is 20 minutes during rush hour after the gateway opens," he said.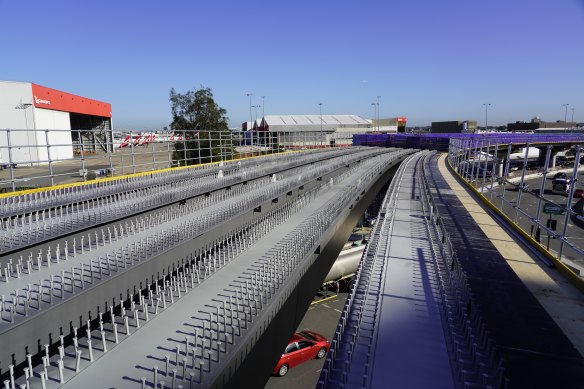 The completion of the Sydney Gateway project by the end of next year will also help ease congestion on local roads such as Gardeners Road in Mascot.