Flood victims left Mickleham Center before its closure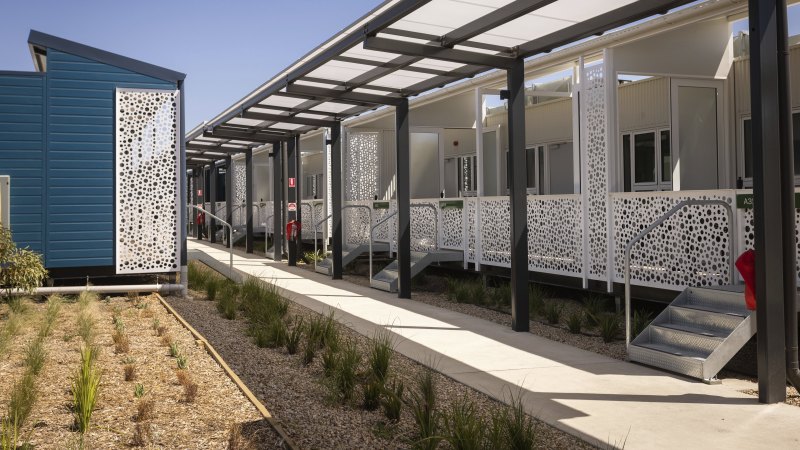 A man in his 50s, who asked not to be named, has lived in Mickleham since his Maribyrnong rental home was flooded in October.
He said the center has been helpful in getting him back on his feet but there has been a lot of confusion and "watered down information" in recent weeks.
"Yesterday I was told for the first time that I said directly that you have to be outside. That was a reality check," he said.
He will be transferred to a hotel in Melbourne's inner west next week. He is employed but is struggling to find new rental accommodation as he struggles with limited real estate and a cost jump of 50 percent from what he was paying before the flood.
"There are so few places, and they either sell out very quickly, they're not livable, or they're super expensive," he said.
Joan Broughan, a Goulburn Valley elderly housing worker, said her clients who live in Mickleham were told in January that the facility was closing and that they needed a housing plan, but they had not received anything in writing.
"They were really worried because they didn't know what this meant for them and where they were going to be sent," she said.
"There was no real communication with them at all and as a housing worker I was never approached. It's a huge problem.
"They are already traumatized because their home was destroyed. You catch them at their most vulnerable point and they are unable to articulate and stand up for themselves."
Temporary accommodation in hotels and caravan parks are generally booked by Emergency Recovery Victoria in blocks of several days to two weeks. Broughan said the stress of not knowing if they would have to move could only add to the stress for people.
A woman in her 80s, who also asked not to be named, said she was moved to a trailer park with a day's notice late last week. Now she is preparing to move into social housing.
She said she "couldn't fault" her experience at the Mickleham center but felt the state government should have been open with residents about the facility's closure.
She said she kept asking staff what happened in January when she felt more compelled to move, but she didn't get any definite answers.
Ambulance Services Secretary Jaclyn Symes said residents would be supported to return to their communities so they could reconnect with work, school and loved ones.
"It's been an incredibly challenging few months for those affected by the floods – the center has been a place for people from across Victoria to come to have a safe roof over their heads, food on the table and a community around them committed to helping them to help with recovery," Symes said.
"We will stand by flood-affected communities for as long as it takes for them to recover."
From March 31, the center will come under the management of the federal government, which will decide on its further use.
The Andrews government and state agencies have subsequently come under heavy criticism over the flooding of the Maribyrnong River Age revealed errors in the early warning system and in planning decisions.
Western Homelessness Network coordinator Sarah Langmore said she sympathizes with the flood victims, who have ended up in a "completely overwhelmed system".
"I think the community would feel like if they got into a housing shortage they would be helped and there just isn't the capacity," she said. "The construction of affordable housing must be a priority."
The Morning Edition Newsletter is our guide to the day's most important and interesting stories, analysis and insights. Login here.
https://www.smh.com.au/national/victoria/flood-victims-booted-out-of-mickleham-centre-ahead-of-its-closure-20230216-p5cl2m.html?ref=rss&utm_medium=rss&utm_source=rss_national Flood victims left Mickleham Center before its closure