Flannery's wife finds bomb on car
First appeared in The Sydney Morning Herald on August 20, 1985
The discovery of four Gelignite sticks under a car owned by Mrs Kathleen Flannery, wife of missing underworld figure Christopher Dale Flannery, led to the evacuation of more than 200 people from Arncliffe last night.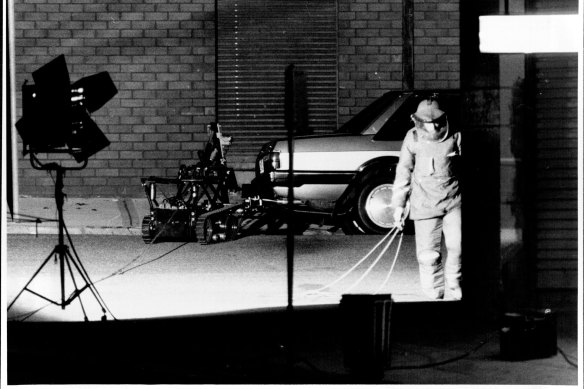 Army experts used a remote-controlled robot equipped with a shotgun to disarm the device believed to be linked to Mrs. Flannery's Ford LTD battery.
The car was parked near Arncliffe station on Queen Street, where Mrs Flannery and her young son had visited a doctor's surgery yesterday afternoon.
Mrs Flannery's son had cut his hand and been taken to the doctor to be checked for an infection. They left the practice at 5:30 p.m.
A man who had just left the practice said: "She came out and crouched near the back door, she said she saw a wire hanging down. She said, 'It's Gelignite, it's a bomb'."
Mrs. Flannery immediately called the police, who called in the Army Bomb Disposal Squad. An army spokesman said: "We are not taking any chances; it could cause significant damage."
More than 200 residents of nearby homes and businesses were immediately evacuated.
At 10:15 p.m., the remote-controlled robot approached and defused the device with a shotgun blast. Army experts then examined the device to make sure it was safe.
https://www.smh.com.au/national/nsw/from-the-archives-1985-flannery-s-wife-finds-bomb-attached-to-car-20220810-p5b8r4.html?ref=rss&utm_medium=rss&utm_source=rss_national_nsw Flannery's wife finds bomb on car