Sports
Fantasy Baseball Waiver Wire: Luke Voit Gets Back On Track; Juan Yepez, Alek Thomas leave their mark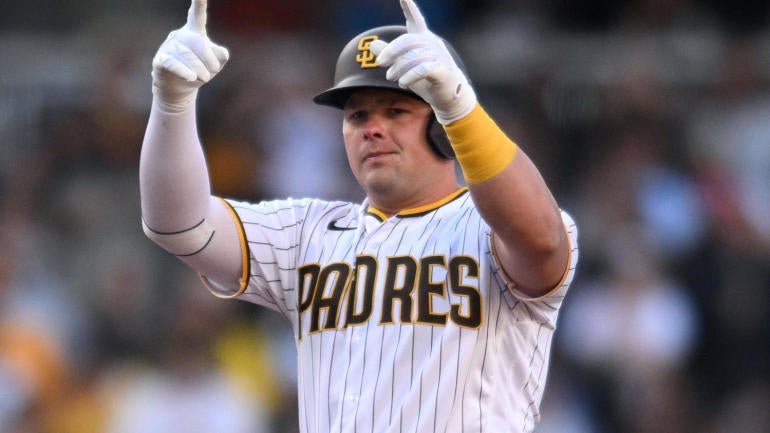 I mentioned this in the Wednesday edition from waiver wirebut it would have been easy to gloss over it since it had not yet borne fruit
The Padres did not activate the IL's Luke Voit on Tuesday because they were desperate. They did it because they believed it was fixed.
But wait, isn't that the guy who hit .143 (6 to 42) before being sidelined by a bicep strain? Isn't it the one who did so poorly on a Triple-A rehab assignment, 0 for 18 and 12 strikes, that the Padres had to save him from it?
Yes, but what did you do with him afterwards? According to MLB.com, they had him perform 25 simulated bats — about six games worth — in front of the coaching staff on Monday to help him reverse some of the bad habits he developed during the game from the injury.
Apparently it worked because he hit a homer twice in his second game on Wednesday.
I may not need to remind you of Voit's testimonials given how loudly I promoted them during draft season, but for the sake of completeness I will. He led the majors in home runs in 2020. He hit .271 with .901 OPS in chunks of four seasons with the Yankees and posted better pace than Matt Olson during that stretch. He was nothing short of a must if he was healthy.
However, the Yankees pulled the plug on him, and apparently so did Fantasy Baseballers because he's listed in only 56 percent of the CBS Sports leagues. Given the lack of offense and especially power in the league, you should do something about it.
Please tick the opt-in box to confirm that you wish to opt-in.
Thanks for registering!

Keep an eye on your inbox.

We're sorry!

There was an error processing your subscription.

Possible waiver of cable pickups
https://www.cbssports.com/fantasy/baseball/news/fantasy-baseball-waiver-wire-luke-voit-gets-back-on-track-juan-yepez-alek-thomas-making-their-mark/ Fantasy Baseball Waiver Wire: Luke Voit Gets Back On Track; Juan Yepez, Alek Thomas leave their mark