EU-UK strike deal over trade rules in Northern Ireland
London: Britain and the European Union have reached an agreement aimed at solving the Brexit hangover created by Northern Ireland's trade rules.
Northern Ireland is part of the UK but according to the Good Friday Agreement there should not be a hard border between the country and the Republic of Ireland which is part of the EU.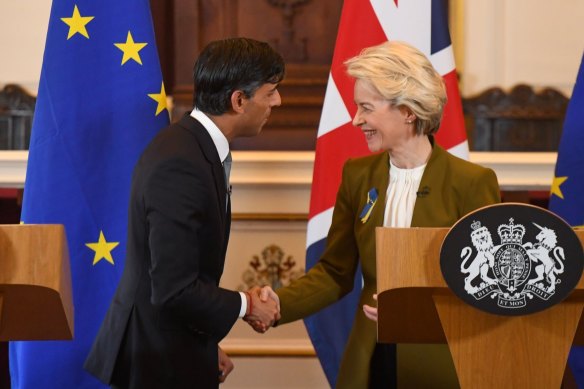 The question of the best way to resolve trade deals and appease the various political parties in Belfast has been a key sticking point in the bitter aftermath of Brexit. The issue was covered by the Northern Ireland Protocol struck by former Prime Minister and Vote Leave supporter Boris Johnson.
Under the new Windsor framework, the UK has secured green and red lanes for goods arriving at the port, allowing products such as plants, medicines and food intended only for Northern Ireland to be transported across the border without certification or customs forms.
"Goods destined for Northern Ireland will be transported via a new green lane, with a separate red lane for goods at risk of being brought into the EU. Going green will eliminate tiresome customs bureaucracy," said British Prime Minister Rishi Sunak.
Goods that could be exported to Ireland and the EU are dealt with in the red lane. People in the UK who send gifts to their relatives and friends in Northern Ireland no longer need to fill out customs forms.
And to solve the problem of the European Court of Justice having jurisdiction over Northern Ireland, part of the UK, and a totemic issue for Brexiteers, the Northern Ireland Assembly will be given a new power, or brake, allowing it to change EU rules stop applying in Northern Ireland if it can cause significant harm. Britain will have a veto.
Announcing the changes at Windsor, Sunak and EU President Ursula von der Leyen said it was a major breakthrough and a "new chapter" in their relationship.
https://www.smh.com.au/world/europe/eu-uk-strike-deal-over-northern-ireland-trade-rules-in-brexit-breakthrough-20230227-p5co1c.html?ref=rss&utm_medium=rss&utm_source=rss_world EU-UK strike deal over trade rules in Northern Ireland