Eternityland is a strange parallel universe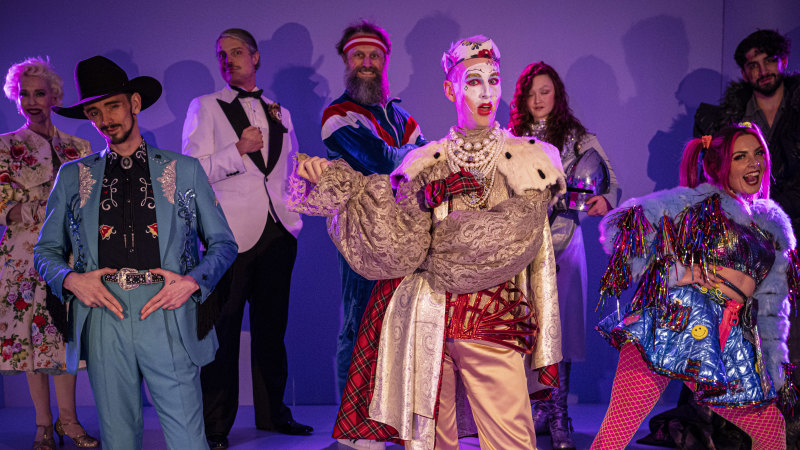 People in our group, led away by fluffy pink-haired riot girl The Clown (Lou P Scarlett), have disappeared into rooms, the door firmly shut behind them.
Loading
We scrawled grievances on wall stickers in a Fury room, watched visitors caress a tiny gold skeleton sculpture to the accompaniment of a strumming guitar, and down maze-like corridors adorned with tiny artificial flowers, glowing desert scenes, and clouds and hearts with legs.
There were see-through plexiglass cabinets that once stocked David Jones ties, aftershave and knitted jumpers, now they display mystical relics, including the nose ring of a half-man, half-bull Minotaur and sparkling purple moss-covered blobs with the title The last supper of the last unicorn.
The drawers contain botanical drawings of Yggdrasil Roots, a giant ash tree that supports the universe in Norse mythology, or maps of the ancient Greek city of Themiscyra.
We've drunk the red and blue liquids offered in vials by the Alchemist (Challito Browne), a tall, cloaked figure who purses his lips curiously at any visitor. That everyone willingly drinks this brew before following them into a cramped elevator to who-knows-where shows our trust in appearances.
There's also a clear hunger for post-lockdown adventure. Shuffling spectators grab on all fours down a tiny, winding, carpeted corridor to discover Club 7, a twin peaks-like jazz bar with sparkling candles, deep armchairs and a tuxedo-clad pianist, the Money (Tim Hansen), who exchanges lively jokes and songs.
foreverland is a creative whirlpool of autonomous self-surrender and enveloping escape. Visitors can float from room to room as observers or delve deep into unique interactions with the eight characters orchestrating drama in each dream chamber, art installation, scent niche or cocktail bar.
It's impossible to see everything. foreverland, which offers five 70-minute sessions per night, includes seven hours of content. You need eight visits to see everything.
Our perplexing journey ends in a glowing Roman temple-like chamber as the cowboy, mother, clown, alchemist, knight and more sing i need a hero Shyness is completely abandoned and everyone dances.
https://www.smh.com.au/culture/theatre/choose-your-own-adventure-in-this-bonkers-parallel-universe-in-the-middle-of-sydney-20220815-p5b9y7.html?ref=rss&utm_medium=rss&utm_source=rss_culture Eternityland is a strange parallel universe