Emily review with Emma Mackey
EMILY ★★★★
(M) 130 minutes
Frances O'Connor's biopic about Emily Bronte isn't very interested in answering the questions: what, when, where and why. It is believed that we already know enough about the Brontes and their work to jump right into their story without the usual preparations.
Her main concern is "What if?" As the most enigmatic of the three Bronte sisters, Emily left no hint of the aura of erotic intensity that enlivens writing Wuthering Heightsso O'Connor felt free to fill in the blanks with his own inventions.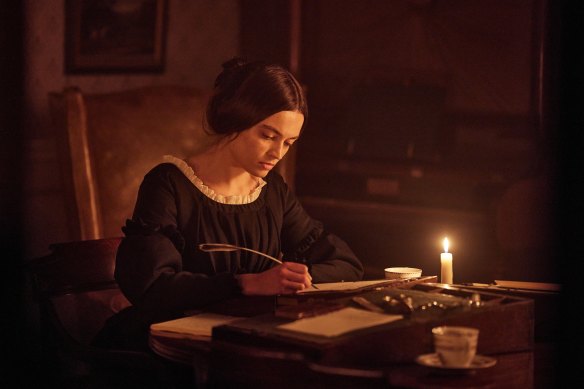 She rewards her with a passionate affair with William Weightman, who was said to be the only sympathetic young man among the line of vicars who came to the Haworth vicarage to work with the sisters' father. And if you can put aside the thought that this theory isn't supported by any evidence, there's a lot to be said for it.
You hope things could have been like this for Emily simply because it makes her more human. Rather than being an ethereal figure completely caught up in the realms of their own imagination, she puts them in touch with the world in which the rest of us live.
The film is O'Connor's directorial debut, but her acting career has given her a keen sense of casting. As Emily, she is chosen sex education's Emma Mackey, who has proven to be a natural when it comes to playing someone whose flair for asking uncomfortable questions sets her apart as an outsider indifferent to public opinion.
Loading
Her sisters love her but don't really understand her and the film begins towards the end of her short life when Charlotte (Alexandra Dowling) heatedly tells her she finds it Wuthering Heights a shocking book full of reprehensible people.
From there, the script jumps back to the arrival of Weightman (Oliver Jackson-Cohen), whose looks and charm draw both Charlotte and third sister Anne (Amelia Gething) in. He is an avid flirt but when he meets Emily she is the one who intrigues him and they start dating secretly.
https://www.smh.com.au/culture/movies/was-emily-bronte-hiding-a-secret-passion-20230111-p5cbrx.html?ref=rss&utm_medium=rss&utm_source=rss_culture Emily review with Emma Mackey