Educational chasm will come back to bite our kids
The division is becoming a chasm ("Sydney private schools spend millions on land for new campuses", March 4). Young people experiencing totally different worlds throughout their schooling portends badly for the future. Alan Morris, Eastlakes
Millions spent on land for private school retreats is a common and valid approach in the developing years of mid high school. However, the funding of such practices with public funds is questionable. It is our inequitable federal funding policy for education that has reduced our public schools to the "poor-house" of the Dickensian period. Janice Creenaune, Austinmer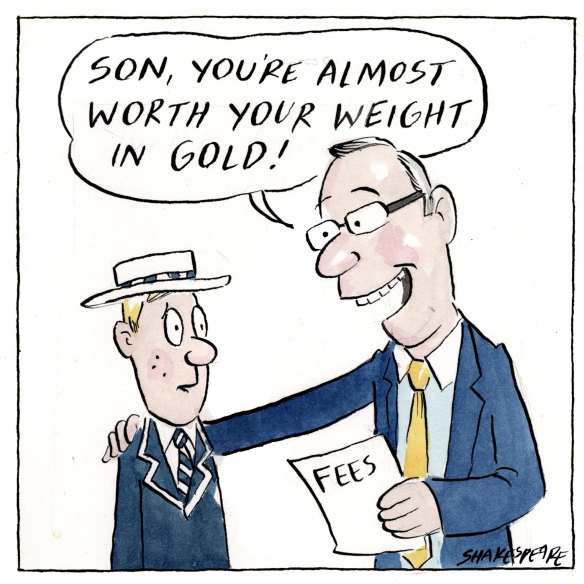 If so many private schools can afford to spend millions on vast tracts of land for educational and outdoor purposes, it's clearly time to resurrect DOGS (Defence of Government Schools). Many of these over-indulged independent schools already occupy large parklands, with extra facilities and complexes state schools can only dream of. Private school "independence" and "extraordinary wealth" is to a large extent at the expense of state schools, which, because of lesser government funding, cannot hope to participate in the competition we are told is held between these wealthy schools. Only when education and opportunities are equal for all children will we be able to "walk humbly" and without "condescension" – a worthy ideal, but definitely not a government priority. Corin Fairburn, Bass
An under-acknowledged consequence of the aggressive expansion of private schools has been the conversion of acquired property from rateable to non-rateable by the council. This has created a forced subsidy from locals, who must maintain local services from a diminished rate base. Leigh Creswell, Mosman
Clearly, if private schools have enough parents with large enough incomes to contribute towards their property portfolios, they do not also need government subsidies to assist with providing a quality education to their students. George Zivkovic, Northmead
We should be embracing what independent schools are endeavouring to offer future generations. It's what many parents want and are willing to pay for. It's not all about academia and university entrance. Jenny Greenwood, Hunters Hill
In my electorate, our MP boasts that he has "spent $720,000 on local P&Cs". Despite this, my local public school has tried for years to raise funds for a sun shade to protect their children. They have also had to endure a fivefold increase in the number of temporary, "portable" classrooms plonked on their grounds – because no new land has been acquired for local public schools over the last decade. Yet, in this same electorate, we learn that at least one private school has spent $12.4 million to acquire 30 hectares to "bolster" their property portfolio. At the risk of sounding tedious and repetitive, may I remind you that this state government spends billions of taxpayers' money on subsidising these elite schools? If this is not pandering to exclusion and privilege, then would someone please inform me what is? John MacKay, Asquith
Does anyone else find the excessive wealth of religious, private schools obscene? They are spending like drunken sailors while our public schools receive less than the minimum School Resourcing Standard – and will continue to be underfunded until 2029. Tom Orren, Wamberal Heights
Albanese the right PM for the right times
Peter Hartcher makes the significant point that this government is much more financially disciplined than the previous conservative government, and with Australia immersed in the mire of a trillion dollar debt, so it should be ("PM's mission: roll on…and on", March 4). One may wonder whether Anthony Albanese's impecunious childhood has strongly influenced Labor's present attitude to saving and spending. An increasing number of Australian families are experiencing financial difficulties and will no doubt understand and sympathise. It could be argued that in the present difficult economic climate in Australia and with his background, Albanese is the ideal person for the job of PM. Geoff Harding, Chatswood
I did not vote for the Labor government mainly because of its atrocious pre-election campaign, but when it comes to the current debate on superannuation, I give it my full support. Why? In order to win government our politicians are under the most ridiculous pressure to make promises which may be irresponsible to fulfil. Election promises may have to be broken especially when it comes to equity and integrity. Superannuation was never intended to support the lifestyle of the rich and the famous. Rosalind Winterton, Maroubra
No surprise that the loudest squeals against Labor's proposed "tax hike" on superannuation are from those who have happily exploited the system in treating it as a tax haven for their multi-millions. Calling the prime minister out for breaking a promise re superannuation is most disingenuous. The Opposition is fooling no one. Indeed, when grasping the wide-ranging ill-effects of the tax haven on the economy and the majority of citizens, only a fool or a self-serving politician would adhere to it. Albanese should be congratulated on having the courage to take the stand he did, knowing the Opposition would jump on it for their own benefit. As for broken promises: "Let him without sin cast the first stone." Kathleen Hollins, Northmead
The changes to taxing superannuation may receive less enthusiastic support when the real impact of taxing non-realised capital gains and the lack of indexation of the $3 million threshold is understood. Even with a moderate rate of inflation it will not take long for many more retirees to be paying this tax. Superannuation will be seen as just another cash cow for government. Perhaps our PM can explain how much capital would be required to fund the $400,000 to which he would be
entitled today. Or is he happy to dip into the money others have earned to provide his unfunded pension? Graydon Smith, Castlecrag
Spotlight on long-term effects of sports concussion
With the start of the NRL season, we already have renewed focus on the long-term physical and mental damage caused by concussion, and this attention is now extending to women's football ("The confusing, painful fog of concussion", March 4). But there is no outcry about boxing and the barbaric UFC, both of which aim to beat opponents senseless as quickly as possible. "Sport"? Ha.
Rob Phillips, North Epping
The focus on the possible devastating long-term effects of concussions, particularly on female athletes, is to be applauded. It was disappointing to read that only one centre has a special interest in treating it and to realise it is located in Melbourne. Hopefully, this publicity will be the impetus for medical colleges to roll out training packages, particularly for sports medicine and general practitioners, which will inform best practice management of presenting cases. Participating in these sports is extremely beneficial for mental health but it must not be at the cost of disability in the future. Louise Dolan, Birchgrove
Paddock pillaging
Not content with pillaging the Pilliga, Santos, with the endorsement of Matt Kean, plans to pillage the paddocks as well ("No plains sailing for gas giant with a plan", March 4). The investment of $1.2 billion in the proposed pipeline between the Narrabri coal seam gas project and the Hunter Valley, with its devastating environmental impacts on farms along the route, most assuredly is indicative of long-term intentions. While not only exploiting the Pilliga region, with its very real threat to subterranean water resources in addition to substantial associated methane emissions, Santos is obviously planning on long-term gas production in both this region and others that could network into the massive pipeline. If it is a shortfall in energy that concerns the NSW government, then directing support to fast tracking renewables and power storage is the only acceptable solution. Roger Epps, Armidale
Money motive
Your report is heart-rending, but inevitable considering that the primary motive of the companies running the jails is to make a profit and not the rehabilitation of prisoners ("Cover-ups, neglect rife in jails", March 4). Nothing is going to change until state governments take back the responsibility they once held of running the prisons. And they are not going to have the courage to do that until the public realises that taxation is needed to run efficient public services. Tony Brownlow, Glebe
I cannot make sense of the idea that private companies can make a profit from running prisons. Prisons don't make money, they cost, so private profit can only come from generous government handouts of taxpayers' money. Governments try to tell us that private companies can run things more efficiently, but what does that mean? That governments pay them enough to provide the necessary services, but then they cut the services down to ensure their profits. Surely governments could offer the same level of services, or better, and save paying for the private company's profit margins. So, how do governments benefit from handing out our money? The only answer I can think of is that it allows them to wash their hands of responsibility for inevitable disaster. And who suffers the most? Once again our indigenous communities. Charmain Brinks, Newcastle
Shareholders happy
Qantas sacked a third of its workforce during the temporary downturn of Covid, the very thing JobKeeper was meant to prevent, and is now gloating over its eye watering profits, all made off the back of the long-suffering public paying through the nose for the appalling service it now offers ("Qantas to hire thousands after cuts strain growth", March 4). Alan Joyce is now trumpeting plans to expand, trying to replace the decades of lost expertise lost in just a few months. Even he admits it won't be a quick fix as he can't just conjure up experience. Qantas is supposedly our national carrier, but in reality it's just a piggy bank for its shareholders. Elisabeth Goodsall, Wahroonga
Canal idea
Michael Koziol has some good ideas about the things he'd do for Sydney if he were premier for a day, in particular his bleak eye on the monstrosity that is Parramatta Rd ("Six radical things I'd do for Sydney if I were premier", March 4). I suggest converting Parramatta Rd into a canal from one end to the other and make it the Venice of the South. This would lead to a tourist led economic boom. Also, a simple underground rail line from end to end would help create a village feel along the road and remove many cars. But, of course, nothing will happen and nothing will be done. Ivan Head, Burradoo
Regions important
Yoo hoo, Dominic Perrottet and Chris Minns, this is a message from the vast area of NSW that is not in Sydney or on the coastal fringe ("New harbour tunnel to stay public under Labor", March 4). The people in Bathurst, Wagga Wagga, Parkes, Cobar, Broken Hill, Orange, Griffith, Albury, Armidale, Tamworth, Bourke, Glenn Innes and many others will be voting in the state election. You know, all those places the other side of the Great Dividing Range. It's not all about Sydney. Joan Brown, Orange
Homelessness increase
Your correspondent claims "negative gearing investors don't build houses, they use them" (Letters, March 4). Both are true, but the latter requires qualification. Investors buy houses and rent them out, providing accommodation for those who can't afford to buy. The tax concessions on this form of investment should be limited but if completely abolished would lead to a grave shortage of rental accommodation and increased homelessness. Stephanie Edwards, Roseville
Would Jesus go to Oxford Street?
The Catholic Archbishop of Sydney is right: we should all attend a Mass to see what's going down in his 'hood and perhaps walk a kilometre or two in someone else's shoes ("Catholic Archbishop invites The Project to church", March 4). Will he accept my invitation to join me in a walk down the centre of Oxford Street in next year's Mardi Gras parade? What would Jesus do? Peter Campbell, Potts Point
Manipulating masters
Not wanting to pontificate but The Life of Brian didn't cross the line of blasphemy (Letters, March 4). From the opening scene with the sermon on the mount and the "blessed are the cheese makers" it was clear the Brian was no messiah let alone a naughty boy. The film's mastery is in how it shows how gullible people are, and how un-questioning fear-mongering or divisiveness can be easily manipulated in society, be it with religious or political overtones. Steve Dillon, Thirroul
Weird words
For your correspondent and other readers, I offer the following additional words: quockerwodger, winklepickers, and sennight (Letters, March 4). Of those, quockerwodger is my favourite. John Harris, Goulburn
The digital view
Online comment from one of the stories that attracted the most reader feedback yesterday on smh.com.au
'Breaking down like an outsourced ferry': Albanese urges NSW to back Chris Minns
From Teximus Prime: "Everything Albo says about the Libs is correct but what is Labor offering as an alternative? All Minns is doing is relying on people being sick of the Libs. It worked for Albo, but he had ScoMo who was a once in a generation failure. The NSW Libs aren't as bad so Minns needs to give us something to vote for".
To submit a letter to The Sydney Morning Herald, email letters@smh.com.au. Click here for tips on how to submit letters.
The Opinion newsletter is a weekly wrap of views that will challenge, champion and inform. Sign up here.
https://www.smh.com.au/national/nsw/the-extraordinary-wealth-of-private-schools-educational-chasm-will-come-back-to-bite-our-kids-20230304-p5cpfb.html?ref=rss&utm_medium=rss&utm_source=rss_national_nsw Educational chasm will come back to bite our kids