Drunk and drugged driver Samuel William Davidson, who killed Abdallah and Sakr's children, has been jailed
A drunk and drugged driver who killed four children walking down a Sydney sidewalk to buy ice cream has had his sentence reduced.
Samuel William Davidson was driving erratically and was speeding when he met Veronique Sakr, 11, and her cousins ​​Sienna Abdallah, 8, and her siblings Angelina, 12, and Antony, 13.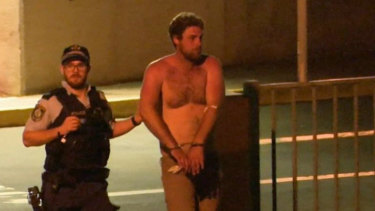 Davidson, 31, plowed into her after his ute climbed a curb in Oatlands, north-west Sydney on February 1, 2020.
He was jailed in April 2021 for 28 years, 21 of which are without parole.
But on Friday the NSW Court of Criminal Appeal, in a majority decision, concluded that the time limit was manifestly excessive.
Davidson was again sentenced to 20 years in prison with a 15-year non-parole period.
The professional driver pleaded guilty to manslaughter for the children he killed and also pleaded guilty to three counts of injuring three other children.
A boy has suffered permanent brain damage.
https://www.smh.com.au/national/nsw/drunk-and-drugged-driver-who-killed-four-children-has-jail-time-cut-20220715-p5b1ww.html?ref=rss&utm_medium=rss&utm_source=rss_national_nsw Drunk and drugged driver Samuel William Davidson, who killed Abdallah and Sakr's children, has been jailed