Drugs in Louis Vuitton box, $1.5 million in cash found in western Sydney
Four men have been charged after police allegedly found $1.5million in cash and around 5kg of drugs – some hidden in a Louis Vuitton box – in two houses and a car in Sydney's inner west. The discovery was part of an investigation into money laundering and illegal drug activities.
Two men, aged 23 and 28, were stopped in a limousine on Mintaro Avenue in Strathfield around 3.40pm on Sunday as part of ongoing NSW Police investigations.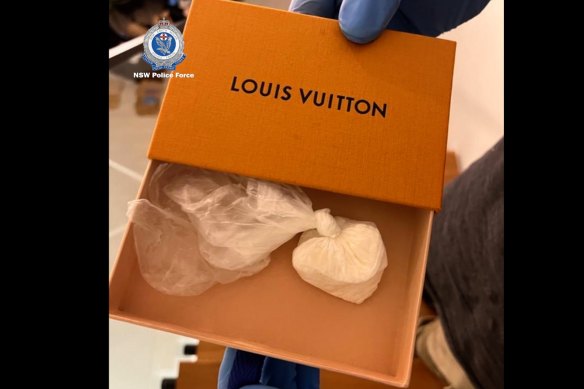 During a search of the vehicle, officers found 5 pounds of cocaine and $24,000 in cash. A search of a hatchback parked nearby, also believed to be linked to the couple, found an additional 550 grams of cocaine and 140 grams of MDMA.
The two men were arrested and taken to Burwood Police Station.
Both men were charged with supplying a large commercial quantity of a banned drug, and the 28-year-old was also accused of knowingly dealing in the proceeds of crime.
Following the arrests, detectives executed two search warrants on properties on Hunter Street in Strathfield.
Police located and seized an additional $1.5 million in cash, two kilograms of methylamphetamine, two liters of methylamphetamine oil, nearly 700 grams of cocaine, and cannabis and steroids.
Police also seized three vehicles, two hydraulic presses, two ballistic vests, a firearm and ammunition, numerous driver's licenses and other items "consistent with the manufacture of illegal drugs" during the searches.
https://www.smh.com.au/national/nsw/drugs-in-louis-vuitton-box-1-5-million-of-cash-found-during-bust-in-sydney-s-inner-west-20230109-p5cb8o.html?ref=rss&utm_medium=rss&utm_source=rss_national_nsw Drugs in Louis Vuitton box, $1.5 million in cash found in western Sydney