Driverless trains are covering kilometers under our feet in the race to extend routes
Critical tests of driverless trains are taking place deep beneath the streets of the city center amid a feverish debate over the fate of the fourth leg of Sydney's $64 billion underground network. It will decide whether a subway line will open to passenger service early next year.
If all goes according to plan, within eight months driverless trains will be carrying thousands of passengers every four minutes through twin tunnels under Sydney Harbor and the CBD.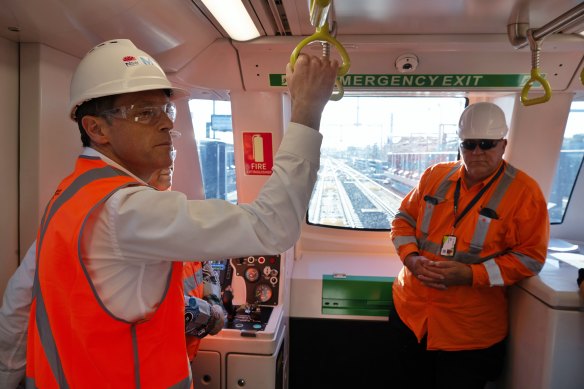 The opening of the main section of the $21.6 billion Metro City and Southwest Line, the second leg of the city's subway rail network, as soon as next April depends on testing computer-controlled trains and complex systems.
Since the first single-decker train weaved through tunnels under the harbor in April, trains have traveled some 2,000 kilometers between Chatswood and Sydenham – or about 500 hours of 'low-speed dynamic testing'.
Three trains are currently being tested on the route, including one loaded with water canisters to simulate it being full of passengers.
Metro City and Southwest project manager Hugh Lawson said the challenges of testing and commissioning the line would not be over until after it opened.
"There is still a lot to do on this project. Yes, much of the physical build is complete, but we still have many hard and difficult tests ahead of all integrated systems. That's just as important as building the stations and digging the tunnels," he said.
The planned opening of the main Metro City and Southwest section, which will connect to the Metro Northwest line, will allow passengers to travel from Rouse Hill to Martin Place in 46 minutes without having to change trains in Chatswood. Alternatively, a journey in the opposite direction from Sydenham to Macquarie University takes 33 minutes.