Driver Mohinder Singh turns on bosses after four cops die
Singh told the court, under cross-examination by Large's attorney, that even while speaking to police immediately after the accident, he had memory loss "because I was on drugs".
Many of the cases against Connect and its executives have been based on allegations that they failed to properly manage driver fatigue, which put people at risk.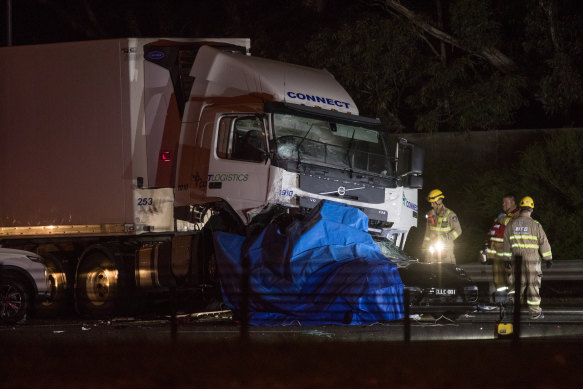 Connect records, particularly drivers' timesheets, are key to the case against Large, the court has heard.
Prosecutors ran Singh through his timesheets that led to the crash.
The court heard Singh resting in Lyndhurst at 9.20pm the night before the crash. But he also wrote on the same sheet that he left Lyndhurst at 9 p.m.
Singh could not explain the numerous similar errors in his timesheets. He said no one from Connect, including his manager, ever asked him about his timesheets.
"We never discussed rest breaks," Singh told the court.
Last week the court heard that Singh's superiors concluded he was unfit to drive and should see a doctor before the accident.
"He went in and had a meeting with the Melbourne manager and then got behind the wheel of the truck. The accident happened an hour later," Single told the court.
Singh is serving more than 18 years in prison for culpable driving which caused the deaths of Lead Senior Constable Lynnette Taylor, Senior Constable Kevin King and Officers Glen Humphris and Josh Prestney.
He also pleaded guilty to the drug offense. The Victorian courts heard he was using methamphetamine and had slept just five hours before the crash.
The courts also heard that Singh was hallucinating before the crash because of his drug problem.
On appeal, he received a four-year rebate for his commitment to assisting prosecutors in the cases against Connect and its executives.
Under cross-examination on Friday, Singh told the court he had been ordered by his lawyers to do whatever prosecutors asked. He was not represented in court.
Large, if convicted of the most serious charge against him, faces a maximum fine of $3 million, five years in prison, or both.
Connect Logistics and executives Matthews and Chalmers are expected to be sentenced later this year.
Connect faces a maximum fine of US$3 million, the highest possible in NSW Magistrates' Courts.
The Morning Edition Newsletter is our guide to the day's most important and interesting stories, analysis and insights. Login here.