Dotted around Victoria are landmarks whose stories we might never have guessed
There are places we walk past every day without knowing the hidden stories that lie within. From a city intersection where two freedom fighters were hanged in 1842, to the unmarked grave of a pioneering female newspaper editor, these landmarks whisper of faraway lives and stories long forgotten. In this intriguing tour of 10 Victorian landmarks, long-forgotten people and places reveal themselves anew …
Melbourne Town Hall
Turtle soup, larded guinea fowl, boar's head and champagne jelly: the "Right Worshipful" (and unimaginatively named) Lord Mayor Benjamin Benjamin and guests feasted upon such dubious delicacies in 1887 for his inaugural dinner at Melbourne's majestic Town Hall. The food sounds hideous. One of many in the City of Melbourne's vast Art and Heritage Collection, this menu details seven courses, peppered with a tedious 15 toasts, with "the Ladies" scraping in last, just behind "the Press".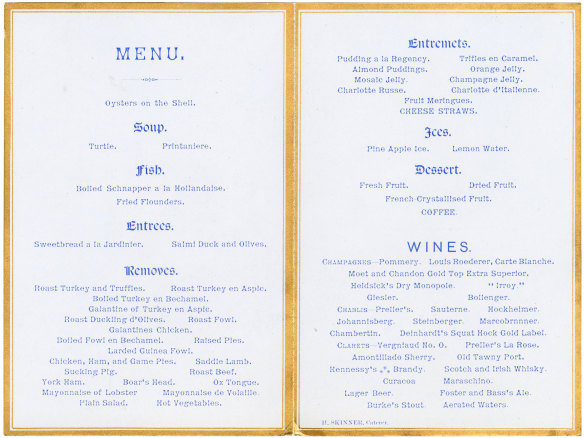 In those days, the Town Hall we know today – built in 1870 after the first one proved too small – was the epicentre of the burgeoning town's cultural and political life. The collected menus are a fascinating record of what the upper echelons consumed. Many were written in French, then the height of sophistication. But by the 20th century, the tucker became more recognisable and a little more local: in 1921, Mayor John Swanson enjoyed caviar, crème of celery soup and roast chook with cress, topping it off with peach Melba (kind of local: named after Melbourne's famed soprano, but created at London's Savoy by a Frenchman).
The menus take in dinners held elsewhere (hotels, clubs, Parliament House, Government House). A nine-course dinner held in 1867 at the Melbourne Club was especially lavish: it was for the Duke of Edinburgh, Prince Alfred, the first Royal Family member to visit Melbourne. He couldn't eat at the Town Hall because it hadn't been built: he was here to lay its foundation stone. His dinner sounds challenging, with pigeon vol-au-vents, beef tongue and marbled frozen jellies, but he survived indigestion to make two more visits to the thriving metropolis.
City of Melbourne Art and Heritage Collection items feature in themed exhibitions at City Gallery, Melbourne Town Hall.
Koorie Heritage Trust
Glenda Nicholls, a Waddi Waddi/Ngarrindjeri/Yorta Yorta woman, first sent one of her feather-flower creations to the Koorie Heritage Trust many years ago, when she was a young mother and hoping to get traditional craft practices into public view.
Feather-flowers are unusual bouquets made from selected bird feathers and have traditionally had a ceremonial function among many Indigenous clans around the country. They have individual storylines that tend to be handed down matrilineally – Nicholls learnt the tradition from her mother, who learnt it from her mother, and so this particular feather-flower storyline stretches back to South Australia, where Nicholls' Ngarrindjeri mob comes from (the family has been in the Swan Hill area for several generations).
Today, the trust has about 150 feather-flowers from various sources, including Nicholls' works. "I learnt from my mum by watching her," says Nicholls, whose enormous creation Miwi Milloo, or Good Spirit of the Murray River was suspended in front of the water wall for the NGV Triennial in 2020 – the work comprises fishing nets with daintily hanging feather-flowers.
"I was a sickly kid, and when I was home sick, Mum'd be making these feather flowers," Nicholls says. "She sold them for what she called 'wheelbarrow' money – if there was anything we needed that didn't fit into our budget, she was able to buy it with the wheelbarrow money." On Ngarrindjeri country, the birds found or eaten would have provided the feathers – but some were avoided. Her grandmother, for example, was always averse to emu and owl feathers. "You get to know the feeling of 'No, don't use that one'."
Her mother usually used chicken feathers but has always told her daughter that she must adapt to what surrounds her – so she used cockatoo, galah and rosella feathers, among others. Nicholls, who occasionally runs feather workshops, tends to buy hers online from reputable sources where the animals aren't exploited. "And if a special bird comes my way, I will use that for a special purpose, such as a ceremonial outfit to wear while doing dancing or for someone else who does ceremonial dancing," she says.
The Koorie Heritage Trust feather-flower collection can be viewed by appointment. koorieheritagetrust.com.au
Sands & McDougall building, Spencer Street
In the 1960s, US-born Melbourne photographer Maggie Diaz diligently made portraits of workers at the Sands & McDougall publishing house in West Melbourne. The magnificent building was like a city-state, its docks and alleyways a thriving hub for delivery trucks (horses in the early days) amid the clamour of the presses. Diaz recorded every aspect of this industry, from the smartly dressed Mad Men-like art department staff to the men in grubby overalls who inked things up down below.
Sands & Mac was famous in Melbourne for 117 years as the producer not only of stationery and other paper products but the huge volume known as the Melbourne Directory – or, more colloquially, the "Sands & Mac". A sort of internet of its day, the annually updated directory was an extraordinary feat of logistics: foot soldiers from the factory would methodically door-knock the entire city to check names and addresses and include them in the book, founded in 1857.
Known as "walkers", the compilers must have had extraordinary insights into the lives of Melburnians – but the information they collected was strictly defined; if only they'd been able to publish their cultural and social observations in these monstrous volumes which, at their grandest in 1927, weighed five kilos and were 3520 pages long.
As well as residents, listed alphabetically by surname, each directory included maps and a guide to banks, societies and associations, and listings covering municipal, government, colonial, legal and ecclesiastical sectors. It sounds tedious, but it was a goldmine, especially for debt-collectors.
Melbourne historian John Lack has written that the Melbourne Directory was unmatched in its reliability, comprehensive coverage and, now, its inestimable value to social scientists and historians. Sands & Mac continued until 1978 but the final directory was printed in 1974. Demand had plummeted thanks to the Melway, and free phone books tossed annually onto everyone's front lawn. The directory was sunk, and best used as a doorstopper. The beautiful building remains as offices.
Melbourne Directory volumes are held in collections such as the State Library of Victoria, University of Melbourne's Baillieu Library and the City of Melbourne.
Melbourne Museum forecourt
Badtjala woman Fiona Foley created the powerful sculpture Lie of the Land as a commission for the City of Melbourne to mark the 1997 National Reconciliation conference held in Melbourne, at which the delegates turned their backs on then-Prime Minister John Howard, who had refused to say "sorry".
Each of the seven sandstone pillars is inscribed with a word: blankets, knives, looking glasses, tomahawks, beads, scissors and flour. These are taken from John Batman's 1835 "treaty", which lists these items as being "traded" with Wurundjeri Elders for 60,000 acres of land.
The sculpture speaks to the treatment of Indigenous people since colonisation and, as is often the case with Foley's work, states facts in order to educate about an aspect of history. In this instance, a soundscape by artist Chris Knowles accompanies the sculpture and entails Batman's diary entry about the controversial exchange being read out in Woiwurrung, as well as in the languages of other people present in Australia around the time of settlement: Chinese, Portuguese, Dutch, French, Indonesian and English.
Intended as a temporary commission, the artwork was originally sited prominently out the front of the Town Hall, but moved six months later to a permanent home in a forecourt, down the escalators at Melbourne Museum. At that site, it has been noted that the work speaks eloquently of the relationship museums once had with Indigenous people, acquiring sacred relics by inappropriate means.
Foley is committed to writing in the history of Aboriginal nations through her public artworks, which often pack a strong punch. To view Lie of the Land while standing on the ground it refers to is a powerful and humbling experience, and goes to the heart of what it means to live in Melbourne – the weight of post-1778 Australian history and what colonisation entailed.
Lie of the Land is at Melbourne Museum.
Medical History Museum, University of Melbourne
Known sometimes as Diamond Jim because he didn't remove his glittering rings while performing surgery, James George Beaney (1828-91) was also referred to as Champagne Jimmy (guess why).
Celebrated, too, as a great benefactor of the University of Melbourne, Beaney was larger than life. A senior surgeon at the Melbourne Hospital (now Royal Melbourne), he is depicted in the university's medical museum by a very Dickensian caricature, with a decorked bottle languishing at his feet. Sleeves rolled up, he looks ready to (shakily) wield the scalpel.
But let's not forget his court appearances. Brian Collopy documents his life in his book Diamonds and Stones in an era of Gold (2018) and writes of several patients' deaths that drew attention to Beaney. The most notorious and tragic involved a St Kilda barmaid, 21-year-old Mary Lewis, who died of (apparently) a ruptured uterus in 1866, though Beaney gave the cause of death as "malignant disease" of the uterus. Collopy writes that we shall never know if this young woman had asked Beaney to perform an illegal abortion, or whether he was just assisting in her antenatal care.
In the Medical History Museum's Highlights booklet, Professor Harold Attwood writes that Beaney was then tried twice – initially, the jury could not reach agreement; the Crown had tried to prove that Beaney had performed an illegal abortion. At the retrial, he was acquitted after what Attwood describes as the clever barrister's devastating cross-examination of the surgeon who did the post-mortem.
"The trials created much public interest and because of Beaney's nonchalant attitude, much animosity," Attwood observes.
medicalhistorymuseum.mdhs.unimelb.edu.au
Coriyule homestead, Geelong
There's much speculation as to whether Anne Drysdale and Caroline Newcomb were lovers or just very good friends. Certainly, these strong, independent women defied conventional roles of the day. Their devotion to each other is symbolised in the mourning brooch Newcomb commissioned: set against gold, the hair of both women is exquisitely entwined. Newcomb had it made in 1854, a year after Drysdale's death, for their friend and neighbour Barbara Thomson.
The book Secret Histories of Queer Melbourne describes how Newcomb and Drysdale were known as "the lady squatters" when they embarked on a business and domestic partnership in 1841 – Drysdale had farming experience in Scotland and their first property was on 10,000 acres near Geelong.
In the mid-1840s they acquired the freehold of Coriyule on the Bellarine Peninsula and built a homestead, where they lived together. Drysdale had a stroke in 1852, and another fatal one the following year. Newcomb married a Methodist minister eight years later.
Bev Roberts, who published an edited version of Drysdale's diary, wrote in the LaTrobe Journal in 2011 of how our heterosexual-homosexual dichotomy is a modern concept, with a well-researched history of intense, complex female friendships existing in the pre-Freudian age. On the little evidence available, Roberts writes, it is more likely Drysdale and Newcomb's relationship ought to be characterised as one of love, tenderness and sustaining comfort – symbolised in the gorgeous brooch.
The brooch is kept in the State Library of Victoria collection along with Drysdale's diary.
Cremorne, Yarra River
The English-style pleasure park known as Cremorne Gardens sounds like it was enormous fun, especially when the stage-like panoramas exploded with fireworks each evening. Established on the edge of Richmond in 1853, it was early Melbourne's first pleasure garden and was part-managed by entrepreneur/politician/actor (they all seem to go together) George Coppin, whose insolvency sank the gardens a decade later.
Attractions included the Pantheon theatre, a maze, a bowling alley, a menagerie of exotic birds and animals, a rotunda for dancing, sideshows such as Fat Boy and Bearded Woman, and even a tightrope walker across the artificial lake. Australia's first hot-air balloon was launched here (landing in far-away Preston) but it was the "Eruption of Vesuvius" that was the main attraction each evening during the early years – a painted panorama that emitted fireworks and streamers.
Historian Mimi Colligan writes that such panoramas were constructed of timber, plaster and painted canvas, and were 122 metres wide by 15 metres high, like a film set. When Vesuvius had its day, there was the View of Rome, the Siege of Sebastopol, the Fall of Delhi and so on.
To get to the gardens – then on the outskirts of town – pleasure-seeking Melburnians would ride on the paddle-steamer 'Gondola' from Princess Bridge. Yet, while huge amounts of money were spent on Cremorne Gardens, things deteriorated and it became a bit sleazy: curator Simon Gregg, who once featured the gardens in an exhibition at the Treasury Building, noted that visitors became "quite unsavoury".
An Age article (1934) describing the history of the gardens mentioned "discreet spots for lovers, including leafy bowers reached by spiral ladders up gum trees".
But there's little evidence of that sort of high-jinks in the gorgeous poster advertising Cremorne Gardens, made during its heyday. In that version, it was a thrilling epicentre of delights. It was later replaced by a private "lunatic asylum", and then by houses and factories. Contemporary image researcher/illustrator Allister Hardiman has lovingly recreated a map of the gardens.
Cremorne Gardens posters/images are in the Performing Arts and State Library of Victoria collections.
Melbourne General Cemetery
Clara Seekamp is believed to be Australia's first female newspaper editor, and was notable for her connections to Ballarat's Eureka uprising. Historian Celestina Sagazio, with extensive knowledge of Melbourne General Cemetery graves, says that by the time Seekamp was buried there in 1908, aged 89, she had led an extraordinarily rich life – yet her death certificate recorded her as "housewife" and her grave is unmarked.
Seekamp's descendants are believed to be keen to redress this, says Sagazio, who suspects there may have once been a monument on the grave. "I personally don't think it's particularly important that it is an unmarked grave as she led a remarkable life and she is interred in a cemetery full of significant people."
Seekamp arrived in Australia in 1847, without her husband (a dancing master) but with two of their three children. She became a language teacher and headed a theatrical company, performing mostly in Ballarat but sometimes Melbourne. The Ballarat Times editor, Henry Seekamp, was infatuated with the young Clara. When her first husband died, she took Seekamp's name (as his de-facto) around 1854.
Sagazio describes Clara Seekamp as a well-educated and forcible character who took over the editorship and kept the newspaper afloat when Henry was jailed – on the morning of the Eureka rebellion, police raided the Times, which had become a mouthpiece for the diggers. Clara continued to fire off blistering editorials. When Henry was released the next year, they sold the newspaper, and separated: Henry went north, Clara settled in Melbourne until her death.
At the cemetery, Clara Seekamp's grave is near those of many other Eureka-related characters – all men – such as Governor Sir Charles Hotham, the autocrat who sparked the Eureka Stockade Rebellion in 1854, Sir Redmond Barry, who presided at Eureka trials and Peter Lalor, leader of the miners, who eventually became Speaker of the Victorian Parliament.
Murtoa Stick Shed
Walk into this astonishing piece of architecture and the jaw drops: it's like an immense cathedral with pillars made of upright tree trunks. David Grigg, Stick Shed management committee secretary, was thrilled last year with a $350,000 state government grant. Though the shed only opened to the public in 2016, in the past year alone there have been 22,000 visitors. Even vintage car rallies have been held here – drivers being careful to avoid the 560, 19-metre-high unmilled mountain ash poles propping up the roof.
The Murtoa No.1 Store was built in 1941-42 to hold emergency grain during WWII. It went up in about four months, and Griggs and his staff speak of the monumental hard labour that went into its construction. Men worked from dawn until dusk and not only climbed to roof joints 20 metres in the air, but also dug down 10 metres of thick ground with hand tools.
Because there was a wheat glut, more than three million bushels of wheat filled the shed by 1944. Cylindrical grain silos took over the industry and by the late 1980s the shed was set for demolition. But a community push got it on the Australian Heritage List for conservation.
Gallows Hill, corner Franklin and Bowen Streets
Look around Melbourne's "monuments", and there are a lot of white blokes in stone. At the corner of Franklin and Bowen Streets, once known as Gallows Hill, is Standing by Tunnerminnerwait and Maulboyheenner, another sort of monument made by Brook Andrew and Trent Walter in 2016. Commissioned by the City of Melbourne, it is one of a number of artworks that commemorate the story of these two Aboriginal men who were hanged at this site in 1842.
Tunnerminnerwait, Maulboyheenner and three Aboriginal women, all from Tasmania, were tried for the murder of two whale-hunters; the men were found guilty, even though it has been strongly suggested their actions were about defence and resistance. The Andrew/Walter sculpture speaks to Aboriginal and Australian flags in its colours, to the different colonial and Aboriginal histories that are told and to crime and punishment via its use of bluestone, so redolent of jails.
Tunnerminnerwait and Maulboyheenner were executed as criminals, but they are remembered by many as freedom fighters, venerated by Aboriginal communities, activists, artists and writers, according to artist-curator Paola Balla, who invited artists to respond to the story for the 2015 City Gallery exhibition Executed. The work included a huge painting by Aunty Marlene Gilson that portrays the men as dignified, not shackled. It powerfully sums up the events leading to the hanging.
As Tony Birch describes it in the Executed catalogue, the men were paraded through the streets before thousands of people: "The public spectacle was a deliberate act of violent theatre, choreographed by colonial society in order to, as the sentencing judge John Walpole Willis explained at the time, inspire 'terror' in the Aboriginal population, and 'to deter similar transgressions' in future."
Standing by Tunnerminnerwait and Maulboyheenner is at the Franklin/Bowen St corner, and Aunty Marlene Gilson's painting is in the City of Melbourne collection.
A cultural guide to going out and loving your city. Sign up to our Culture Fix newsletter here.
https://www.smh.com.au/culture/art-and-design/larded-guinea-fowl-anyone-old-menus-and-medical-scandals-reveal-our-hidden-history-20221216-p5c6xk.html?ref=rss&utm_medium=rss&utm_source=rss_culture Dotted around Victoria are landmarks whose stories we might never have guessed