Don't waste compassion on self-funded retirees. i should know
You probably haven't noticed, but I never write about self-funded retirees without adding a derogatory adjective — "so-called," or better, "self-proclaimed." When it comes to good causes, they are high on their own list, but not high on mine.
One day a reader challenged me, "Why are you so down on self-funded retirees, Ross, when, as far as I can tell, you'll be one yourself when you retire?"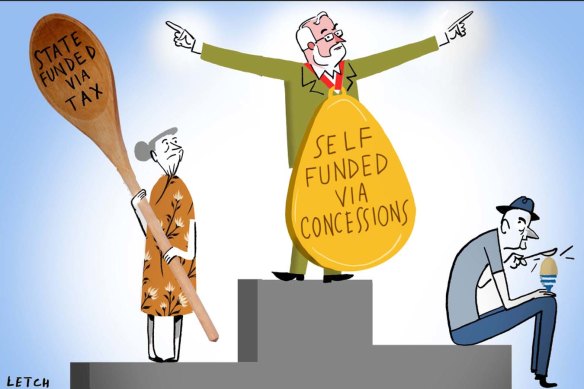 Ahem, ah, yes, well… Some declare to do. If self-funding means you are so wealthy that you couldn't possibly pass the means test to be eligible for the old-age pension, then yes, I will be self-funding. One thing I don't look forward to is waiting hours on the phone for help from these lovely souls at Centrelink.
In my experience, no one tells you they're self-funding without expecting you to award them a medal. While other people have lived lavish lives and now expect the taxpayer to support them in their old age, I've worked hard and saved my money and now I get nothing from the government.
What a good citizen I am. If only other people could be as self-sacrificing as I am. And by the way, while we're on the subject of money, since it's a bit of a hassle without a pension, I was wondering if the government could manage to give me a little something as a token of appreciation. For example, a special tax deduction for seniors or easier access to the health card?
What bothers me about all of this is that it's just the wrong way round. It is not the supposed self-payers who are doing the taxpayer a favor, but the retirees who retire without much super.
Why is this? Because so much of any retirement savings doesn't come from what you've saved, but from the accumulated tax credits you've received. I guess what a lot of people don't know is that you get compound interest not only on your contributions but also on the concessions you get year after year.
Many people retire with relatively modest pension payments, which does little to reduce their entitlement to an old-age pension. According to the Association of Superannuation Funds of Australia, the median balance for people aged 60-64 is less than $360,000 for men and less than $290,000 for women.
https://www.smh.com.au/business/the-economy/don-t-waste-sympathy-on-self-funded-retirees-like-me-20230228-p5co3r.html?ref=rss&utm_medium=rss&utm_source=rss_business Don't waste compassion on self-funded retirees. i should know