Don Quixote by The Australian Ballet
DANCE
Don Quixote ★★★½
The Australian Ballet, State Theatre, until March 25th
The Australian Ballet's revised production of Rudolf Nureyev Don Quixote is an engrossing but inconsistent spectacle of celluloid-inspired nostalgia. Based on Barry Kay's designs for Nureyev and Robert Helpmann's 1973 film, the costumes are vibrant and full of character.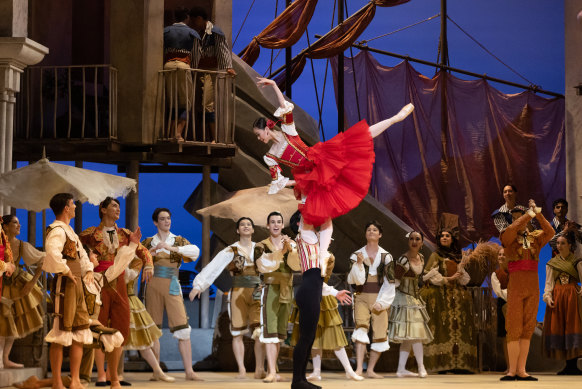 The sets, also based on Kay's designs for the film, are less effective. Originally made for an aircraft hangar, they were rescaled by Richard Roberts. The effect is cartoonishly painterly, but it's still crowded and there's always too much business in the background.
Ako Kondo is a cheerful and mischievous innkeeper's daughter who brings an endearingly wry sense of humor to the character. Chengwu Guo is also impressive as her lover, who combines athleticism, exuberance and precision in his solos and partnerings – although I saw him more closely.
The couple first danced these roles a decade ago, and a lot was made of their backstage romance back then. In the past few years, their relationship has been featured in profiles, previews, and press releases. And yet, as overexposed as they are, it's hard not to be charmed by their on-stage rapport.
Adam Bull's Knight Bus is an outstanding performance, with his performance balancing the character's mental instability with a poignant sense of kindness and bravery. His various interventions in the name of justice suggest a truly moving restraint and noble determination.
I think, seemingly heterodoxically, that the link between this ballet and Cervantes' novel is not insignificant. It is the melancholic allure of the gentleman from La Mancha that justifies all the color and pastiche and saves this ballet from buffoonery and exhibitionism.
Callum Linnane is energetic in the street scenes as the Prince of Bullfighters alongside a dashing Amy Harris. Yuumi Yamada is an adorable cupid waiting to take on the role of Kitri later in the season. And Sharni Spencer – another Kitri in the queue – impresses with her authority as a dream queen.
https://www.smh.com.au/culture/dance/vibrant-and-lush-this-new-production-of-don-quixote-also-is-well-a-bit-quixotic-20230316-p5csm9.html?ref=rss&utm_medium=rss&utm_source=rss_culture Don Quixote by The Australian Ballet