Does Latrell Mitchell abuse prove progress over 30 years is only skin deep?
On 17 April 1993, Nicky Winmar and his St Kilda team-mate Gilbert McAdam entered Victoria Park, country of the Wurundjeri, the home ground of their opponent Collingwood, to inspect the pitch ahead of their VFL match.
Members of the crowd told them they would kill them and their families and rape their mothers. They said they would hang Winmar and McAdam from a tree. When these two Indigenous players ran onto the field half an hour later, they were showered with spit and a cup of urine. They received racial abuse from Collingwood players during the game and from the President of the Collingwood club after the game.
Almost 30 years to the day since this event, Latrell Mitchell was allegedly racially abused by a "fan" at Thursday's NRL game at Penrith Stadium on Dharug Land. Mitchell was not sprayed with urine or threatened with hanging, and no one said they were going to rape his mother. So go ahead Australia, pat yourself on the back for 30 years of improvement.
The nameless who abused Winmar and McAdam have disappeared into deserved anonymity. Winmar has a statue immortalizing his post-match gesture of raising his Guernsey to show his pride in the color of his skin. He also blew kisses to the crowd, turned his bum at them and pounded on it, and as he raised his Guernsey he called back, "I'm black and I'm proud to be black."
Latrell Mitchell has also taken on the role of a leader and the pain of a lightning rod. On behalf of his Indigenous brothers and sisters, he has stood in front of rugby league viewers and challenged them to let go of the prejudices that lie beneath the surface. He had particular problems with supporters at his former club, Sydney Roosters, and at Penrith. On Thursday night, the alleged genocide was a crossover who had come to Penrith in Roosters colors to yell dirt at Mitchell. The perpetrator was allegedly a minor, the same factor that so angered Adam Goodes when he was molested by a Collingwood supporter at a Melbourne football game in 2013. If kids do it, does that mean they're too young to know any better, or just too young to know how to hide it? Goodes was left with the last feeling that if children emulate their parents, change is a lot further away than he had hoped.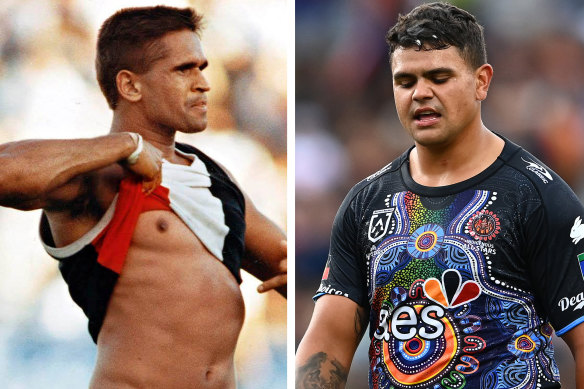 Since 1993, the balance of power has changed somewhat. The Collingwood fans had the freedom of their home turf to say and do as they pleased. On football pitches, a racist perpetrator now risks being filmed, called out by other spectators, arrested by security personnel and banned from access in the future. Good on you pro athlete, you are so much better than you used to be.
If there have been real changes, they have been brought about by individuals like Winmar, Mitchell, Adam Goodes, Eddie Betts, Josh Addo-Carr, Donnell Wallam and many others in Australian professional sport who have refused to tolerate overt racism. They've earned support, not immediately but eventually, from administrators, from law enforcement, and most importantly, from regular fans among whom the focus has shifted – or appears to have shifted. As leaders, these players bore the cost. Taking a stand against racism may leave a legacy of gradual social change, and it could earn statues, awards and praise, but it hasn't allowed these footballers to spend their lives patting themselves on the back for the made the world a better place. When they hear what happened to Latrell Mitchell on March 9, 2023, their overriding reaction is despair.
Why this? After decades of education and symbolism and policy changes, Thursday's incident leaves one wondering how much has really improved. The interface is better, but if you hear Mitchell's words, you'll understand those who claim that the only thing that's really improved is the interface. Actions like Winmar's have led to a change in behavior – but what are the instincts and emotions behind this change? Did they really move, or do we condemn ourselves to repeating this cycle over and over again, cracking down on outward expressions while the inner hatred remains?
https://www.smh.com.au/sport/nrl/does-mitchell-abuse-prove-progress-over-30-years-is-only-skin-deep-20230310-p5cr0l.html?ref=rss&utm_medium=rss&utm_source=rss_sport Does Latrell Mitchell abuse prove progress over 30 years is only skin deep?