Discovery of a WWII shipwreck gives families a shot at closure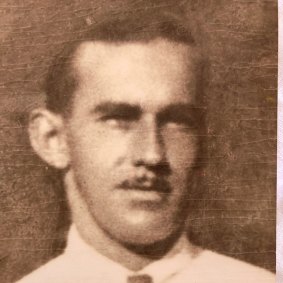 Teenage boys were among the prisoners, both military and civilians, from around 16 countries, arrested months earlier after the fall of Rabaul.
The ship was discovered in April off the coast of the Philippines at a depth of more than 4,000 meters by a team led by Australian businessman and philanthropist John Mullen.
It was found after a 12-day search in the South China Sea led by the non-profit Silentworld Foundation, deep-sea survey specialists from Fugro and with the support of Defence.
Mullen said the discovery of the shipwreck brought a "huge sense of satisfaction."
"But at the same time it's quite emotional," he said. "When we first saw the first images on the screen, I knew I was looking at the deep sea burial site of over a thousand young people."
Mullen said the maritime tragedy is one of the great untold stories of Australian military history.
"Everyone grows up hearing about Gallipoli," he said. "But the fact that so many people died in such a tragic accident has kind of slipped under the radar."
Another victim of the shipwreck was Arthur Parry, a medical officer who was a close friend of Max Uechtritz, a filmmaker and founding member of the Montevideo Maru Society.
Loading
"I feel moderate jubilation and immense satisfaction at the discovery because it will help ease the generational trauma for thousands of descendants of these poor souls," Uechtritz said.
"Finding the wreck now provides impetus to right these wrongs and to honor these men, boys and their loved ones."
Andrea Williams' grandfather and great-uncle were civilian internees on the ship when it sank.
Williams, chair of the Rabaul and Montevideo Maru Society, said families had suffered for decades from heartbreak and frustration as they searched for family members and wondered if the ship would ever be found.
"Finding the wreck is a tremendous achievement and will be deeply emotional and immensely comforting to generations of families of men who perished," she said.
Former Labor leader Kim Beazley and musician and former Environment Secretary Peter Garrett are also descendants of men who died in the tragedy.
Beazley, chairman of the Australian War Memorial, said the shipwreck's discovery was a "monumental moment in wartime history".
"Finding the site of Australia's most devastating loss at sea will help heal Australia's collective memory for generations," he said. "This has solved a mystery of World War II and my family's history."
Patrick Bourke, education coordinator for the Rabaul and Montevideo Maru group of Australia's Papua New Guinea Association, said the discovery of the shipwreck offered loved ones "a kind of ending to the tragedy".