Discord announces a range of AI and ChatGPT features
Despite being one of the largest AI hubs – with more than 30 million users using AI apps on the platform each month – Discord has been somewhat absent from the broader AI conversation. Until now.
In a March 8 press event, Anjney Midha, Discord's Vice President of Platform Ecosystem, announced a number of new AI innovations the company is working on. Along with previewing upcoming new AI features, including an avatar remix and an AI whiteboard, Midha also officially announced that three new experimental AI tools will be rolling out on a limited number of servers.
As if that wasn't enough, Midha has also officially launched the AI ​​Incubator to support Discord's thriving AI community.
"Why is Discord becoming the home for AI? Very simple: On Discord you can enjoy AI with friends' Midha said in a statement. "You can brainstorm together, create together, create memes together. It is both entertainment and useful, fun and informative. And as a developer, I find it really exciting to see teams and communities use our platform as their sandbox and build AI services right on Discord."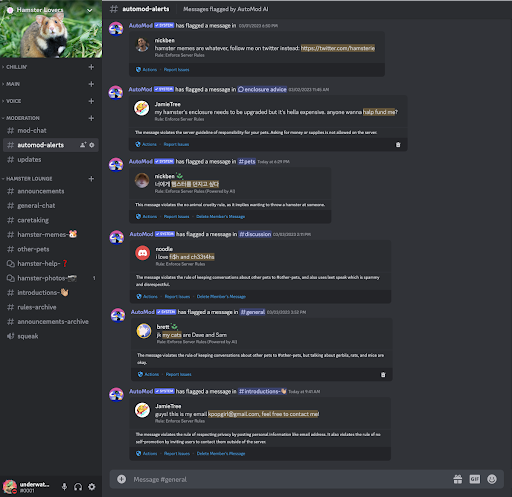 Clyde, AutoMod AI and conversation summaries
Powered by OpenAI technology, Discord is overhauling its existing server bot called "Clyde" to allow users to have rich conversations with it. Like any other Discord user, Clyde can answer questions, use emojis, and even create new conversation threads and recommend Spotify playlists.
In addition, Discord's well-established AutoMod tool, originally introduced to flag spam and abuse for server moderators, will also be augmented with artificial intelligence. AutoMod AI will, as Midha puts it, "harnes[s] the power of large language models" by OpenAI to more accurately assess the "context" of a Discord conversation to determine if there has been an intentional rule breaking.
Finally, Discord users who are feeling FOMO after being inactive on a server for a while don't have to endlessly scroll to try to catch up on what they missed. Instead, the new Conversation Summaries tool, accessible in Discord's "Server Settings," uses OpenAI technology to analyze the missed conversations and provide you with a paragraph that summarizes everything that went down.
However, it should be noted that all three of these features are still in the experimental phase and will be available from Monday March 13th, but will only be available on a limited number of servers right now.
sneak preview
Amidst all of these new projects, Discord also gave us an even further glimpse into the future as they teased other AI tools that are still in the mid-development stages. The Avatar Remix app, for example, will allow Discord users to "remix" their friends' avatars using the power of generative image AI. However, you must have some development experience to use the app – the code is currently open source on GitHub and experienced developers are welcome to tinker with it.
Second, a project not yet available to developers but teased at the event was the long-sought collaborative whiteboard, a demonstration of how the shared creative space will leverage text-to-image capabilities. It's unclear when the shared whiteboard will be rolled out, but it promises to make Discord's collaborative experience better than ever.
AI incubator
With more than 10% of Discord users joining the app primarily to use AI, and Midjourney being the app's largest server with 13 million members, it's clear that there is a lot of talent in the artificial intelligence Discord community gives. That's why Discord announced their first ecosystem fund last year, but now they're expanding that fund with a dedicated "AI incubator."
This includes a range of new dedicated resources for AI developers who have benefited from the ecosystem fund, including office hours with Discord development teams, cloud computing credits for building and prototyping your services, and early access to Discord platform features .
"The possibilities for AI to improve so many facets of the human experience are endless, and we're so excited to see what teams around the world will come up with in the years to come," Midha said during the press event. "So if we can leave you with just three things today… The first is that Discord is the home of AI experiences with friends. Second, AI makes hanging out with friends on Discord more useful and fun. And third, Discord is where developers build and distribute AI."
---

Sign up for our passion fruit Newsletter for creator reporting as follows:
*Initial publication: March 12, 2023 4:38 pm CDT
Charlotte Columbus

Charlotte is a chronic online culture journalist with bylines in outlets like Insider, Rolling Stone, Dazed, VICE, and The Independent.
https://www.dailydot.com/unclick/discord-announces-chatgpt-ai-features/ Discord announces a range of AI and ChatGPT features