Debate on cost of living, lack of discussion on corporate profits
The curious fact is that economists and ecocrats have long lectured workers and unions on the need for wage moderation. The Reserve Bank Governor, Dr. Philip Lowe said workers must be "flexible" and far less accepting of wage increases than consumer price increases. That means take a big pay cut in real terms.
But economists are much more reluctant to urge companies to be cautious about raising prices. I suspect that's partly because of the biases buried in their mental model, but mostly because they know their employer, the big business lobby, their media cheer group, or any businessmen on the reserve's board would attack them that you would dare to say such a thing.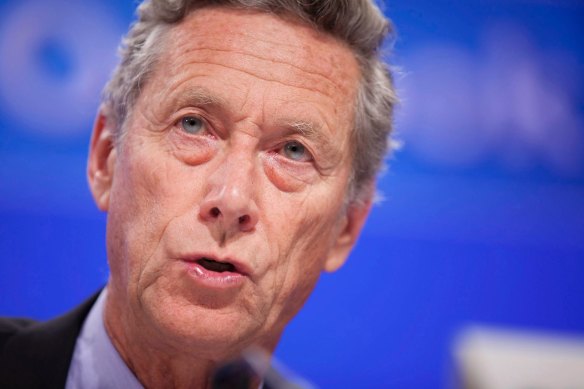 Similarly, economists have insisted that the Australian Bureau of Statistics publish any number of different measures of wage growth but few measures of earnings growth.
Last month Dr. Jim Stanford of the Australia Institute attempted to balance things out somewhat by releasing figures that split the inflation rate into the part caused by rising wages and the part caused by rising profits.
He found that "excessive corporate profits account for 69 percent of additional inflation beyond the Reserve Bank's target," while rising labor costs per unit of output (ie, after adjusting for labor productivity) account for just 18 percent.
Loading
What? huh? I've never seen such an exercise. How did he prepare it? The business lobby attacked and the business press consulted a few economists who lazily dismissed it as nonsense.
But while it's unfamiliar, it's not as strange as you might think. Stanford copied the method used by a crowd called the European Central Bank. What would you know?
Good OK. But how does one take the rise in product prices over a period of time and "dissect" (decompose) it into the portion caused by rising labor costs and the portion caused by rising profits?
By capitalizing on the fact that whenever we measure gross domestic product growth in "national accounts," we measure it in three different ways.
First, the growth of the nation expenditure on goods and services. Second, the growth of the nation income from wages, profits and other joke articles. Third, the growth in the production of goods or services by any of our 19 different private and public sector industries.
In principle, you get the same value for GDP with every measurement. Then you use a "deflator" to split nominal GDP growth between the part caused by higher prices and the part caused by higher volumes – the "real" part.
So it's perfectly legitimate to take this measure of inflation and split it into higher wages and higher profits (leaving the portion caused by changes in taxes and subsidies).
In fact, the Census Bureau has been doing this exercise for wages ("nominal unit labor costs") for decades, but not for profits (because nobody is interested in knowing the results).
Note that the "GDP deflator" is a very different measure of inflation than what we usually focus on: the consumer price index.
Loading
Also note that the war in Ukraine has led to a huge increase in the profits of our energy producers. This stroke of luck has not were caused by companies sneaking their profit margins ("mark-ups," as economists call them). But growth in mining industry profits accounts for only about half of the increase in overall profits over the three years to December 2022.
I don't feel comfortable relying on a think tank for these numbers. But if the economists who advocate for big business don't like it, they should take this exercise seriously and join the debate. The government should ask the statistics office to complete the figures themselves.
Ross Gittins is a business editor.
https://www.smh.com.au/business/the-economy/say-what-you-like-about-inflation-just-don-t-mention-this-dirty-word-20230309-p5cqvi.html?ref=rss&utm_medium=rss&utm_source=rss_business Debate on cost of living, lack of discussion on corporate profits